The eighth edition of the TodaysArt Festival saw over a hundred international artists and makers converge in the city center of The Hague where they treated the visitors to monumental projects, premieres and compelling acts and exhibitions that flowed together into an adventurous and unforgettable experience. TodaysArt 2012 was a voyage of discovery through the latest work and thoughts of groundbreaking contemporary thinkers.
TodaysArt 2012 was a journey of exploration through an untraveled landscape. The festival took place on and around the Spuiplein (city center) and in the Elektriciteitsfabriek (Regentessekwartier) in The Hague. Multiple venues and the surrounding public spaces hosted over 150 adventurous, contemporary and international artists and makers. TodaysArt presented an extensive and varied program of special productions, audiovisual and modern dance performances, concerts, club nights and exhibitions. A new part of the festival this year was the Symposium.
Date(s)
Festival: September 21st and 22nd, 2012
Symposium: September 20th – 22nd, 2012
Exhibition: September 15th – 30th, 2012
Venue(s)
Elektriciteitsfabriek
Filmhuis Den Haag
Lucent Danstheater
Royal Academy of Art The Hague
Spuiplein
TAG
Theater aan het Spui
The Hague City Hall
Program
Performance

Anarchy Dance Theatre + UltraCombos [TW] - Seventh Sense | Ben Frost + Daníel Bjarnason + Sinfonietta Cracovia [AU/IS/PL] - Music for SÓLARIS (film manipulations by Brian Eno + Nick Robertson [UK]) | Braun Tube Jazz Band (Ei Wada) [JP] | Bruno Spoerri [CH] | Chris Salter + TeZ + David Howes (In collaboration with David Szanto, Harry Smoak, Caro Verbeek, Jorg Hempenius) [INT] - DISPLACE 2.0 | Dieter Vandoren [BE/NL] - Integration.04 | InnerAct [NL] - Canto Ostinato Audio Visual (Gwyneth Wentink + Wouter Snoei + Arnout Hulskamp) | Mark Van Hoen [UK/US] | Microseq + Emmanuel Flores Elías [CY/MX] - #008000 | MOHN (Wolfgang Voigt + Jörg Burger) [DE] | Nik Nowak [DE] - Panzer | Open Reel Ensemble (Ei Wada) [JP] | Pantha Du Prince + The Bell Laboratory [DE/NO] - Elements of Light | Ryoichi Kurokawa [JP] - syn_ | Slant Azymuth (Demdike Stare + Andy Votel) + Bruno Spoerri [UK/CH] | TeZ [IT/NL] - Non-Hertzian Wave Transmission 2.1 | The Game of Life [NL] - Wave Field Synthesis | Unit Moebius vs Schmerzlabor [NL] - 20 Years of Bunker Records presented by Panzerkreuz, Bunker and Acid Planet

Club
Dead-cert & Pre-cert Home Entertainment DJ's (Andy Votel & Demdike Stare) [UK] | DEFRAME [NL] | DNK-Amsterdam presents: Bill Kouligas [GR], Heatsick [UK], Gert-Jan Prins [NL], Koen Nutters [NL], DNK DJ UNIT (DJ Too Young + DJ MFK) [NL] | Einóma [IS] | F (Frouke ten Velde) [NL] | FilosofischeStilte [NL] | Ikonika [UK] | Jorick.TV [NL] | Julien Mier [NL] | Pazes [BR] | Phon.o [DE] | Roll The Dice [SE] | Shigeto [US] | The WORM no-stars [NL] - Nouvelle noisette dévant la lettre | TodaysArt x PIP x REWIRE x Bunker - Vortex: Atiq & EnK, DJ Axis, DJ Moosz, Generate, Illesta & Girus PM, Le Source, Lowman, Monomental, Mouches Volantes, Nik Nowak, Phil Tovver, S2N2O CUP, Some Clouds, Torus, Unit Moebius vs Schmerzlabor

Works
Cymatical [NL] - BioDome | Elise Morin + Clémence Eliard [FR] - Waste Landscape | Mariska de Groot [NL] - CINECHINE (WORKSPACE 12) | Martin Bricelj Baraga + André Gonçalves [SL/PT] - DarkStar | Menno van den Berg [NL] - Deflecting Particles | Nik Nowak [DE] - Panzer | Outliers [INT] - Vol.1: Iceland | Raumlaborberlin + Refunc [DE/NL] - Vortex | tomlaan [NL] - InFader

Global Groove: Dick Raaijmakers [NL] - Ideofoon I | Gabey Tjon a Tham [NL] - ))))) repetition at my distance | Joris Strijbos [NL] - Homeostase | Lars Laumann + Rein Vollenga [NL/NO] - Untitled (Love Parade) | Matthias König [DE] - The Sun Never Sets | Nam June Paik + John Godfrey [KR/US] - Global Groove | Onno Dirker + Peter Zuiderwijk [NL] - Sometimes Thoughts String Along | Tomás Navarro [ES] - True Hologram

Netherlands Media Art Institute - Same, same, but different (curator: Theus Zwakhals): Lernert & Sander [NL] - Natural Beauty, Pilvi Takala [FI/TR] - Real Snow White, Oliver Laric [DE] - Versions, Jeroen Offerman [NL] - The Stairway at St. Paul's, Persijn Broersen & Margit Lukács [NL] - Mastering Bambi

Commons Tense / Müşterekler Zamanı - New Media Arts from Turkey (In collaboration with amberPlatform, curators: Ekmel Ertan, Fatih Aydogdu): Candas Sisman - ISOFIELD | Bager Akbay - I Am An Artist | Fatih Aydogdu - ERROR: TITLE INCLUDED | Osman Koç - Corporeal Experiences | Onur Sönmez + Jaak Kaevats - Jason Shoe | Özgün Kılıç + Sedef Aydoğan - _ _ _ _ _ _ IS FORGOTTEN. | Ali Miharbi - False boundaries | Özlem Alkış - Violation | Ahmet Sertac Öztürk - Commun-itchy | Ebru Kurbak - Data Catchers | Selin Özçelik + Nagehan Kuralı - PROBABLE NEEDLEWORK / OLASI EL İŞİ | Mehmet Erkök - Digital Junkman

Symposium - Bright Collisions
Ubiquitous Art and Sound (in collaboration with International Cities of Advanced Sound and related arts): Douglas Rushkoff [US] | Julian Oliver [NZ/AT] | Oliver Baurhenn [DE] | Ekmel Ertan [TR] | Dick Rijken [NL] | Eric Kluitenberg [NL] | Esther Venrooy [NL]

Art / Technology / Industry - Future Collaborations (in collaboration with the Netherlands Study Centre for Technology Trends): Daan Roosegaarde [NL] | Rob Bouwman [NL] | Angelo Vermeulen [BE] | Harry Webers [NL] | John Hennequin [NL] | Paul Kwakkenbos [NL] | Martijntje Hallmann [NL] | Martin Hoorweg [NL] | Jacco van Uden [NL]

Mediations of Sensation - Displace: Chris Salter [US/CA/QC] | Cretien van Campen [NL] | Caro Verbeek [NL] | David Szanto [CA] | Yolanda van Ede [NL] | Joost Rekveld [NL]

Social Architecture: Markus Bader [DE] | Jan Korbes + Denis Oudendijk [NL] | Eva de Klerk [NL] | Jan Jongert [NL]

Workshops
Pecha Kucha Den Haag #12: Sander van de Pavert, Evalotte Oosterop, Onno Lixenberg & Hajo de Boer, Roy Cremers, Niels Büller & Thomas Hosman, Sander van Wettum, Ferry Voorneveld, Puck Verkade, Gwyneth Wentink, Vincent Bos, Rocco Stallvord, Sander van de Vijver, Gijs Kast, Jan Postma, Menkesdriek, Joachim Baan, Omar Kbiri

Periphery
1646 - The Unholy | Cinetoko & Shoot Me - Tom Geraedts, Filip Sterckx, Matthijs Diederiks | De Vinger - Rivers Area: Juke Ellington, Rivers Area Juke Squad, Geazah, Charly & Kip / Die Verrekte Mongdays | FIBER - (Im)possible Worlds | Firma MES - STEL | Galerie Maurits van de Laar - TURQUOISE: Funda Alkan, Sibel Horada, Gül Ilgaz | Gemak - Cast Lead: Return of the Ghosts | Graphic Design Festival | LhGWR - Peter de Krom: Schatgraven | Meermanno Museum - Papier Biënnale 2012: Alicia Martin | Nest - How Art Things?: Jisan Ahn, Toon Berghahn, Jeroen Jongeleen, Una Knox, Littlewhitehead, Clara Palli Monguilod, Jeroen P. Visser, Hans Abbing | Nutshuis - The Price of Tribal Politics / Ik en mijn held | Paard Van Troje - Venetian Snares | PICNIC Festival | PIP - Panzerkreuz Catharsis - 20 Years of Bunker Records: Schmerzlabor, Santa Cruz, Unit Moebius, Beverly Hills 808303 | Platform57 - Harold de Bree | Quartair - Uncommitted Crime: Soyo Lee, Adam Zaretsky, Art Orienté Objet, Stijn Belle, Jalila Essaïdi, Sara Martin Mazorra, Dorith Sjardijn, Art van Triest, René Jansen | Sebastien Wierinck | STEIM - Oorsprong Curators Series | Stroom Den Haag - Expanded Performance / The Knight's Move: Nader Vossoughian | The Game of Life / ANNA@KV20 - Wave Field Synthesis | Theo Jansen - Strandbeest: The Herd of Animarae Adulari | Transnatural | V2_ - Jordan Crandall | West - Patrick Bernatchez + Guillaume-Van Roberge | WORM
show more
Campaign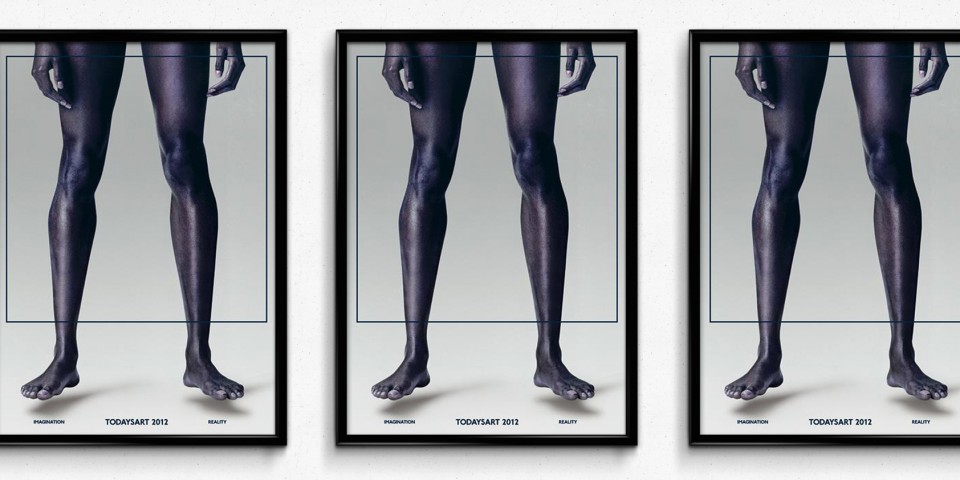 Artistic Statement
The eighth edition of TodaysArt focuses on the search and the longing for the unknown and the undefined. It searches for the specific point where desire and reality are at the verge of touching, the point where dreams have not yet been realized. At the heart of the festival lies the 'Vortex', a large construction created from discarded items. A three-dimensional whirlwind that draws everything in. It is perhaps symbolic for what people do: we suck up experiences in our search for inspiration and dreams, driven by our desire to explore new horizons.
Humanity dreams. It is curious. Since the beginning, it has dreamed about great things that lie beyond the horizon.It thrives on these dreams. Its mind needs them. It is addicted to them. Dreams give it a direction, a goal.Humanity does not follow one path, but many different paths, because every direction can be important on its eternal quest to know everything.Its explorers are headstrong, almost fearless, perhaps even crazy. Crazily determined to push the boundaries, and to beat others in the race to find something that has not yet been lost. It searches for beauty, it searches for truth; and it does all of this, everything, because its imagination collides head-on with reality.
show more
Main Partners
City of The Hague, European Cities of Advanced sound and related arts, European Commission – Culture Programme, International Cities of Advanced sound and related arts, E.ON, Stichting DOEN, SNS REAAL Fonds, Creative Industries Fund NL, Performing Arts Fund NL, Fonds 1818, Prins Bernhard Cultuurfonds, Cultuurfonds BNG, The Nordic Culture Fund, NTV Europe, Stroom Den Haag, Délégation générale du Québec à Bruxelles, British Council, NLTR 400, Ministry of Foreign Affairs Republic of China (Taiwan), Department of Cultural Affairs Taipei City Government