TodaysArt is a festival concept that revolves around the presentation and development of adventurous contemporary visual and performing arts. Since 2005, TodaysArt has brought international artists, thinkers and audiences to The Hague. In 2011, the festival's outreach was extended through the initiation of TodaysArt Brussels in collaboration with Cimatics.
TodaysArt is a festival concept that revolves around the presentation and development of adventurous contemporary visual and performing arts in a variety of urban settings. The festival was first held in 2005 in The Hague, and has since provided a significant annual contribution to the city's cultural vibrancy. In 2011, international collaboration between TodaysArt and Cimatics extended this contribution to Belgium, through the initiation of TodaysArt Brussels / TodaysArt.BE. In Brussels, TodaysArt.BE took over the Eurostation / Midi-Zuid Station – one of the city's emblematic sites – from 29 September to 1 October, precisely one week after the TodaysArt edition in The Hague. A combi-ticket and a train ride or road trip allowed audiences to visit both festivals.
Date(s)
September 29th – October 1st, 2011
Venue(s)
The Egg
Meeting point
Midi Station Gallery
Tour du midi
Place Horta
Quadrilatère
Park Grisar
Smart Tel
iMAL
Tour & Taxis
Recyclart
MediaRuimte
KureghemNet
Fuse
K-Nal
Dexia Art Center
WIELS
Viage
Hangar ABP
La Maison du Peuple
Program
Performance
Biosphere + Egbert Mittelstädt [NO/DE] | Briko2k [ BE ] - Bots Conspiracy | Hiroaki Umeda [JP] - Holistic Strata | Justice Yeldham [AU] | Martin Messier [CA/QC] - Sewing Machine Orchestra | Murcof + AntiVJ (Simon Geilfus) [MX/FR/BE] |
Club
Electronics & Beats: Baconhead (Ebola + Autobee) [UK], Coco Bryce [NL], Comfort Fit [DE], dÉbruit [FR/UK], Herrmutt Lobby [BE], Plapla Pinky [FR] | Floating Lens: ∆ICASEA [UK/JP], D/R/U/G/S/ [UK], Daedelus [US], Elektro Guzzi [AT], Kangding Ray [FR], Senking [DE] | Opening: Edu Imbernon [ES], Lyonel [ES] | Ready made welcomes Moon Harbour: Matthias Tanzmann [DE], Ekkohaus [DE], Peter Van Hoesen [BE], Geoff Wichmann [BE], Pierre [BE], Deg [BE] | Statik Dancin': Rone [FR], Daniel Mehlhart [DE], Kabale Und Liebe [NL], Arno Kenis [BE], Darko [BE] | We Are Young: Juveniles [FR]

Works
Andreas Muxel + Martin Hesselmeier [DE] - Capacitive Body | Anne Sevellec [FR] - Sliver | Aram Bartholl [DE] - Speed Show (curators: Anne Roquigny [FR] + Yves Bernard [BE]): Ben Baker-Smith [US], Brad Troemel & Jonathan Vingiano [US], Chris Milk + Arcade Fire [US/CA], Constant Dullaart [NL], Darren Solomon [US], Jennifer Terry + Raegan Kelly [US], JODI [BE/NL], Jonathan Harris + Sep Kamvar [US], Jon Rafman [CA], Julien Levesque [FR], Les Liens Invisibles (Clemente Pestelli & Gionatan Quintini) [IT], Leonardo Solaas [AR], Marika Dermineur [FR], Mario Klingermann [DE], Perry Bard [CA], curatingYouTube (Robert Sakrowski & Ute Fisher) [DE], Suwud [BR], Systaime [FR], Thomas Cheneseau [FR], VideOdrome collective [FR] | Briko2k [BE] - Bots Conspiracy | Coen Hoogstraten [NL] - Lichtbloem | Cathy Weyders [BE] | iMAL: Stefaan Quix [BE] - The Death and Resurrection Show / Yacine Sebti [BE] - Mirror Match | Keg de Souza [AU] - Gigloo / Mix Tape | LAb[au] + David Letellier [BE/FR] - Tessel | Locus Sonus [FR] - Locus Sonus Promenade | Lucas Abela [AU] - Vinyl Rally | Tomlaan [NL] - Crowd DJ | VR/Urban [DE] - SMSlingshot
Symposium
The Rise of Performance Architecture (Curator: Ewen Chardronnet [FR]): Pedro Gadanho [PT], Raumlaborberlin [DE], Andrés Jaque [ES], Tor Lindstrand (Economy) [SE], Umschichten [DE], Anna Rispoli [IT], Matteo Pasquinelli [IT], Julien Beller (Exyzt / 6b) [FR], Naïm Aït-Sidhoum (Zoom Architecture / Pied La Biche) [FR], HeHe [FR], Bureau d'études [FR], Loreto Martinez Troncoso [ES/FR], Jochen Dehn [DE], OST Collective [BE], Edurne Rubio [ES], Cécile Martin [CA], Jozef Wouters [BE]

Workshop
Briko2k [BE] - Creakids: We Are The Robots | Coen Hoogstraten [NL] - Lichtbloem | Edurne Rubio [BE/ES] - From up there | iMAL - Media Facade Reloaded: Elise Elsacker [BE], Jan Vantomme [BE], Jimmy Hertz [FR], Matthieu Levet [BE], Niels Wouters [BE], Sergio S. Ferreira [PT], Vincent Evrard [BE], Yannick Antoine [BE] | MadMapper: Boris Edelstein (Modul8) [CH] + Francois Wunschel (1024 architecture) [FR] - Presented by Mapping Festival | Performance Art & Architecture workshop: Construction group lead by Raumlabor [DE], OST Collective [BE], Recyclo.org [BE] / Performance group with Jochen Dehn [DE], Loreto Martinez Troncoso [ES] / Reflection group with Cécile Martin [CA], Edurne Rubio [ES], Ewen Chardronnet [FR]

Periphery
Nuit Blanche Parties - Burlesque Fever: Lady Flo [FR], Lada Redstar [DE], Cherry Shakewell [UK], Mademoiselle Ô [FR], George Bangable [BE], *KDR* [BE] / F*ckin'beat: Dubsidia, Elegant Perverts, Radical xp, Glÿph b2b taös, Airj & Sinecore, Mistercrash, The Offenders, Nanaka, Dj Vince [BE] / Mediterra Nuit: Lingatere [IT], Dj Cime Di Rave [BE], Dj Bruno Brown Selecta [BE], Djs Effettoserra Project [IT] / Libertine Supersport: Aeroplane [IT/BE], Mustang [BE], Daryl [BE], Sofie [BE], L-Fêtes [BE] | Recyclart / Pecha Kucha Brussels: Bart Boucké [BE], Louis-Philippe Loncke [BE], Sanna Mander [FI], Chahira Nouira [DE], Maria Ogorodnikova [RU], Manon Perrard [BE], Paul K. Takahashi [BE], Catherine Versé [BE], Nicolas Wierinck [BE], Herman Terryn [BE], Bruno Vandermeulen [BE] | WIELS - Triple Deck: Kapotski (Jonas Nachtergaele, Ruben Nachtergaele, Kurt Stockman), DJ Grazzhoppa, Frederic Le Junter, Dick van der Harst, Ben Bennaouise, Oscar Loman
show more
Campaign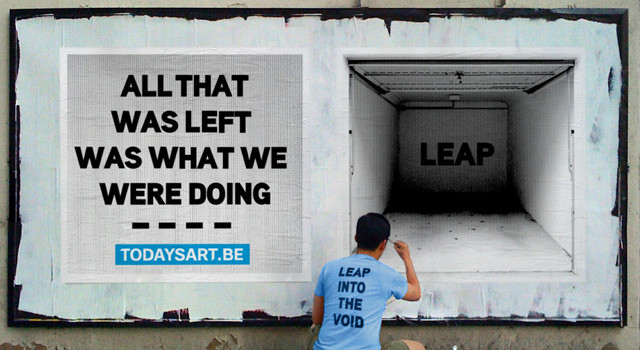 Artistic Statement
Backed up and inspired by creativity we are taking a leap into the void. The future seems unstable. we believe in the sector we operate in. Whatever happens, we wish to keep taking you along for a ride into new territories and to continue exploring tools for an unknown future. To celebrate the unfamiliar, and to feast upon each other's imagination.
The daily portions of text and images that we receive can be envisioned as building blocks. Based on the selections we make out of the events that reach us from various media, we strive to create our own vision of the world.
But who selects what information is made available to us and what knowledge are the decisions about
availability based upon? The actual selection of publicly available information is becoming a more and more powerful tool; distributing hard facts is being pushed into the background. A sugar coating of opinions keeps us on the surface and guards the actual content from visibility. We are faced with a choice; hang on, give up, embrace or deny.

Are we in doubt? Is detaching the same as becoming passive? The truth is probably more subtle. Simply sharing and pointing to shallow information is anything but active participation. The underlying system is based both on skill and coincidence. In that respect, the drop-out and the follower are not so different. However, a direct connection does form when we follow a live event, a connection that seems hard to reconstruct afterwards. Information changes the way we see the world. How we process information ultimately determines the way we deal with our surroundings.

The choice is ours; what do we select, and what do we do with that selection? we present our selection to others and perhaps we find recognition. Participating means changing and innovating. Your interests become my interests. Your idea is mine. We leap into the void. As we have always done.

show more
Camp-Conference: The Rise of Performance Architecture
This year we invited the audience to join us together with numerous partners at a camp conference where architects, urban theorists, performance artists, philosophers, activists, students and public convened, exchanged, experimented, produced and distributed ideas and resources.

A week-long workshop (26 - 30 september) was organized at Parc Grisar (Kuregem/Cureghem). During this week, it was possible for everyone - either individually or collectively - to plug-in to and interact with numerous social and creative possibilities for using and transforming our public space.

Three days of conferences and performances (29 September - 1 October) gave participants and guests the opportunity to discuss contemporary performance architecture and to extend it's potential with regard to future artistic and urban strategies.

Camp-Conference will also highlight the MyCityLab project, which called for long term actions in the Eurostation / Canal midi / Zuid neighborhood, a key platform for mobility in Europe.
show more
Over the past six years, we have been fighting to bring the borders between disciplines as close to each other as possible. This aim has resulted in an ever growing ambition to independently realise the TodaysArt Festival. We try to connect many different movements and developments in artistic, technological and social fields. By bringing them together at the festival, we aim to concentrate energy and create impact on a large scale. Each year we hope to inspire and influence our audiences: from artists to visitors, from policymakers to activists and everyone in between. Many different aspects of what we envision TodaysArt to become, seem to be coming together. We think that in the future, co-creating and designing the form and function of our societies, the areas we inhabit and the role that artistic developments play in this will become increasingly necessary. This year marks the continuation of a search for ways to improve society by inspiring people to start or support a movement or to stimulate change through creative approaches that can be organised independently and are self-sustainable.

This year, we leap into the void. We don't know what the unstable future holds for us and what the solutions might be, but we're definitely searching for it. We ignite this process by co-creating the public spaces during the festival. We offer more discourse, education and opportunities for participation than ever before, through
workshops, symposia, participation projects, tours, interventions and living laboratories. In addition, we launched many open calls for input in the fields of storytelling, augmented and mixed reality, applications for The Hague and urban interventions. These open calls received a great amount of submissions, which will be presented at the festival this year. We will continue working on promising ideas after the festival and asking you to take part in our quest.
show more
#MYCITYLAB: Territory-based creative tool for citizen innovation / Open Calls
MyCityLab is an online/offline project showcasing artistic interventions, educational resources, technological developments, participatory processes, strategies and ideas that are grounded in a direct relationship with a particular local context.

MyCityLab is a research network and communication system that was created to deliver information, to connect people and projects, to accelerate the city's transformation towards ecological, social and cultural sustainability and to encourage meaningful collaboration between the artists and local organisations.
For more information, visit www.mycitylab.eu.

Through various Open Calls dedicated to urban Interventions, Apps for Brussels, Storytelling, Mixed and Augmented Reality, and DIY, TodaysArt invited artists, designers, creative technologists, architects, urbanists and scholars to send in proposals. Projects had to be designed for or adapted to locations in or in close proximity to the Eurostation / Canal Midi / Zuid area. Priority was given to submissions by those who have community art experience or have worked with populations in urban neighborhoods.

show more
Main Partners
Cimatics, European Cities of Advanced sound and related arts, International Cities of Advanced sound and related arts, European Commission – Culture Programme, Commission communautaire française, Vlaanderen, Wallonie Bruxelles International, Brussels Hoofdstedelijk Gewest, Gemeente Sint-Gillis, Culture – Audiovisuel Arts Numériques, Stad Brussel, Ambassade de France à Bruxelles, Koninkrijk der Nederlanden, Embajada de México, Délégation génénéral du Québec à Bruxelles, Australia council for the arts, Pro Helvetia, Goethe Institut, Japan Foundation, Das Österreichische Kulturforum in Brüssel, Nissan, Maesbemusic.