After some years of experiences and inspiring adventures in the international scene and two editions of the CultuurNacht, the organization presented the first edition of TodaysArt, with more intensity and diversification than ever.
Promoting creativity and allowing it to flower in a spirit of freedom and intercultural dialogue is one of the
best ways of maintaining cultural vitality. Access to the new technologies opens the way to original forms of expression. TodaysArt believes strongly in fresh and vigorous creativity and in the new shapes of expression, and the rising talents who boldly explore the possibilities of the new and controversial stages where they can express their talent.
After some years of experiences and inspiring adventures in the international scene and two editions of the CultuurNacht, the organization presented the first edition of TodaysArt, with more intensity and diversification than ever.
TodaysArt embodied the characteristics of past CultuurNacht editions but each of its elements was carefully re-evaluated in an effort to exceed expectations and to meet the international challenges. The festival was expanded into a two-days event, and the new name TodaysArt, International Festival for Art, Music and Technology was introduced.
The festival had a veritable multidimensional itinerary, with more than 30 stages, more than 130 artists, originating from over 15 countries, invited to present their latest creations.
Navigating between the venues, each program complimented one another enough to seduce even the most informed fans or those simply curious enough to let themselves drift into an atmosphere of new sensations. The festival was a unique opportunity to experience the creativity of a full range of improvisers and inspired anti-conformists, who transported visitors to sonic and visual universes surpassing all expectations. They were captivated by today's most current and cutting-edge art, music and technology creations.
In this year, the achievements of the organization's relatively small history had just been recognised by The Arts Council of the City of The Hague, who nominated TodaysArt as one of the official substitutes for the North Sea Jazz Festival, as this high profile festival left The Hague in 2006.
Date(s)
September 23rd & 24th, 2005
Venue(s)
Atrium/Stadhuis
Boterwaag
Dr. Anton Philipszaal
Dudok
Filmhuis
GEM/Fotomuseum
Grote Markt
Grote Marktstraat
Korzo
Mercure Hotel
Nieuwe Kerk
Nutsgebouw
Openbare Bibliotheek
Oude Stroom gebouw
Paard Café
Paard van Troje
Plein 1813
September
Spuiplein
<> TAG
Theater aan het Spui
Spui Tramtunnel
Vrije Academie
Zwarte Ruiter
1646
Program
Performance / Club
1000 Years of Jazz: Aardvarck [NL], DASH! [NL], E-Hook + Dragon [NL], Richard Trevors [CA], Sfeq [NL], Vito Brothers [NL] | Activator (Sharif Zawideh) [US] | Alexander Robotnick [IT] | DJ Beyza [TR] | Bunker Labelnight: Legowelt, DJ Overdose, Schmerzlabor, Sendex [NL] | C.O.W. (Coalition of the Wicked) [NL] | DJ Chris [NL] | DJ Dame [NL] | Edwin Van Der Heide [NL] - Laser Sound Performance | Felix Kubin [DE] | Funkfest [NL] - Greylab (Quadrophonic DJ set) | Gezelschap van de Nacht [NL] - To The Max / Telselldellirium | Grazzhoppa's DJ Bigband & Visual Vectorz Project (DJ Grazzhoppa, Fabrizio Cassol, Monique Harcum, Smimooz, Yzerbeat, XXL, Menno, BoulaOne, Courtasock, Vindictiv, Optimus, J to the C, Iron, Zumo del Scumos) [BE/US/IT] | Isabelle Chaffaud + Jerôme Meyer [FR/AT/NL] - Corps à Corps | Itzik Galili (Rotterdamse Dansacademie) [LB/NL] - For Heaven's Sake | Jason Forrest [US/DE] | Jeff Milligan [CA] | Juakali [TT/US] | Kevin Blechdom [DE] | KODI (Nathalie Bruys) [NL] | Labryenco [ES/NL] | Liat Magnezy + Kim Fischer + Konrad Szymanski + Milou Nuyens + Pawel Adametz [IL/PL/NL] - and she was… / All the Time in the Air | Matt & Mark B [UK] | DJ MO [DE] | Nederlands Dans Theater II / Jiří Kylián [INT] - Sleepless | Output Recordings Showcase: CircleSquare [CA], Lopazz [DE], Manhead/Headman [CH/UK], MU [JP/UK], Trevor Jackson [UK] | Pandora's Jukebox [UK] | Pauline Levick (Drang) [UK/NL] - Einstein on the Roof | R.A.W.: Baba Israël [US], Cherif Zaouali [BE], Daniel Lim [NL], Johny Losley, Keez Duyves [NL], Randolph Matthews Band [UK], DJ Thelonius [NL], Vincent Verburg [NL], Wendel Spier [NL] | R.o.o.o.m. [NL] | Rechenzentrum (Marc Weiser + Lillevan) [DE] | Sid Le Rock [CA/DE] | Terence Fixmer & Douglas McCarthy [FR/UK] | Transforma [DE] | Traxx [US]

Works
<>TAG: Chris Cunningham [UK] - Rubber Johnny, Eni-Less [NL], Jasch [CH] - Codespace, Marloes De Laat [NL] - Het Lichaam als Medium, Morten Nottelman [DK], Nynack + Daniel Meir [NL/IR], Nynke Gabeler + Maike Lond [EE/NL] - Sirkus Apraksi, Peter Max-Jakobsen [NL] - M-Switch & Light Bridge, Ricardo Giraldo [NL] - AV-synq, Sei Matsemura + Amos Elmaliah [JP/IL], Yael Bartana [IR/NL] - Kings of the Hill | Allard van Hoorn + Edo Karst (Apart Media) [NL] - Action / re-Action | Arlet van Laar + Ruud Panhuysen [NL] - Badenflat | Black Soil [NL] - Short Film Selection | DIN AV [DE] | Dirk Eijsbouts [NL] - Interface #2 / Interface #4 / Interface #5 / TFT Tennis V180 / Schietspel | Donald Christie [UK] | Farewell Industries + E202 Pantoffeldiertjes [NL] - Video Drive In / Similar Ways | Filmhuis Den Haag: Erik van Schaaik [NL], Floris Kaayk [NL], Lodewijk Grijns [NL], LUST [NL], Nils Mooij [NL], Roelof van den Berg [NL] | Funktion One (John Newsham, Tony Andrews, David Bruml, Rob Prickartz, Michel van de Beek) [UK] - Experimental Soundfield | GEM: Daniel Pflumm [CH], Justin Bennett [US/NL] - Noise Map | Harold de Bree [NL] - TYP XXI | Henrik Van Ketwich [SE/NL] - Interference Matrix 16x4x2 | Holger Lippmann + Carsten Nicolai [DE] - Minimal Garden | Jan Rohlf [DE] - Genregenerator | Jorn Kruijsen [NL] | Kevin Van Braak [NL] - Caravan 01 | VJ Klebowax [NL] | Latte Art [NL] | Lenard Vunderink [NL] | LUST [NL] - TodaysArt Virus | Marnix De Nijs + Edwin van der Heide [NL] - Spatial Sounds (100 dB at 100 km/h) | Mateusz Herczka [SE] - 44/13 | Mathijs Felix [NL] - Gyroscoopspeaker | Milivoj Ilic (O art) [US] - Bubbles / Faces Against Glass / Sophie, moving photographs | Norman McLaren [UK] - Dots / Loops / Neighbours | Olaf Mooij [NL] - Braincar | Phonk (Cecile DeFerrante + Mike van der Noordt) [NL] | Radboud Mens + Aldje van Meer [NL] - r.e.a.l. sound | Refunc [NL/LT/DE] - Millegomme Villagio | Robi Insinna (Manhead/Headman) [CH/UK] | Royal Academy of Art - ArtScience: Robert Pravda, Kasper van der Horst, Jennifer Townsley, Louis van den Brink, Niek Hylkema, Jimmy van der Eng, Emilio Espinosa [NL] | Sam Walker [UK] - Arm and Eye Films | Simon Owens (The Imaginary Tennis Club) [UK] | Sis Josip [NL] - CityCirkels | SKART (Stefan van Weele, Muriel Mager, Maurits Giesen, Martijn van de Reep, Marleen Sleeuwits, Lars van der Brink, Jacco Musper, Jil van Orsouw, Ilse Leenders) [NL] - Under Control | Staalplaat Soundsystem [NL/DE] - Yokomono / Sale Away | United Visual Artists [UK]

Workshops
Christian Kleine [DE] - Ableton Live5 Showcase

Periphery
1646: Amos Elmaliah [IL], Barbera Ceron [MX], Battal Kurt [TR], Carlos Iturralde [MX], Clara Palli Monguilod [ES], Dennis Kiem [NL], Dennis Koot [NL], Dit Is Dit [NL], Edd Schouten [NL], Eveline Van Der Berg [NL], Floris Kruidenberg [NL], Gabriela Hernandez G. [MX], Gema Tro Andreu [ES], Hadas Itzcovitch [IL], Johan Gustavsson [SE], Kay Patru [FR/CA], Markus Rummens [NL], Nico Feragnoli [IT], Piet Linnebank [NL], Sanne van Winden [NL], Susanne Bruynzeel [NL], Taco Eisma [NL], Unisex [NL] | Crossing Border - Border Kitchen: 't Hof Van Commerce [BE], Binnert de Beaufort, Karin Giphart + Vincent Arkebout, Maarten Duinker, Mark Hoogland, Jeanique Kats, Joram van Loenen, Oscar Kocken + Iris Koppe - Spunk, Wouter Van Riessen [NL] | Fotomuseum: Ruud van der Peijl [NL] - Portraits of State | Haags Gemeentearchief: Dolly Rudeman [NL] - Filmaffiches | Kwasten met de Gasten: VJ Ottograph | Shoot Me Film Festival [NL]
show more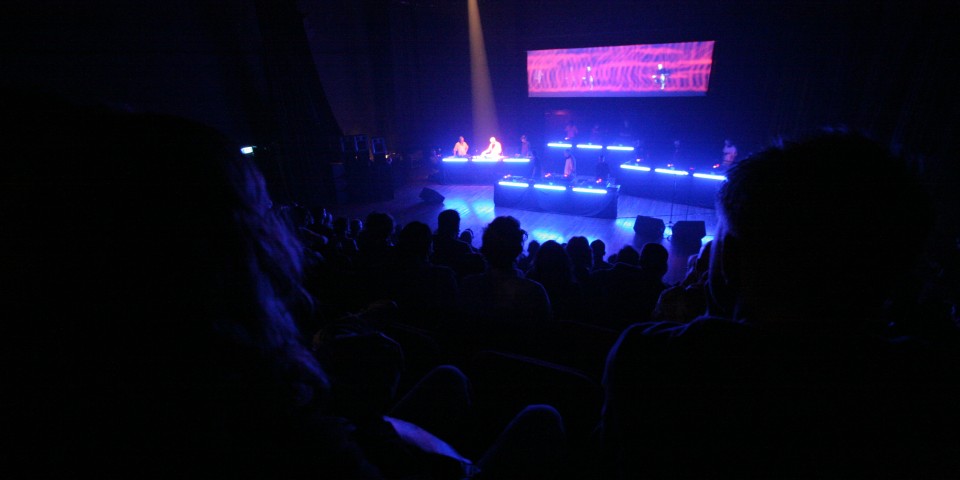 Artistic Statement
The Hague is a city with many faces. At the CultuurNacht you got acquainted with the most fascinating side of the Hague. With TodaysArt, the city is dominated by Art, Music and Technology for two days and nights. You are welcome at this unique and internationally exposed festival that has no equal in the Netherlands. For two nights you can enjoy challenging as well as cutting edge culture and art from sunset till sunrise. As deputy mayor of the Hague and chairman of the Arts-Council I am not only glad but also proud that CultuurNacht and TodaysArt was founded in The Hague and that the festival has promising targets for growth. As of this year the CultuurNacht will be fully transformed into TodaysArt, enjoy and experience Art, Music, and Technology at more than 30 locations in The Hague this year.
Else Van Dijk-Staats, 
Deputy Mayor
Chairman of the Arts Council, 
City of The Hague
Main Partners
City of The Hague, VSB Fonds, Fonds 1818, Casema Cultuurfonds, Prins Bernhard Cultuurfonds, Den Haag Binnenstad Buitengewoon, Den Haag Unicef Stad 2005-2006, Goethe-Institut Rotterdam, Embassy of Germany in the Netherlands, Kingdom of the Netherlands, MTV