The second edition of the TodayArt Festival took place during the evenings and nights of the 22nd and 23rd of September on more than 25 locations in the city centre of The Hague, both in- and outdoor. This year, the unique and international productions together formed an adventurous program which challenged the audience to go and explore unfamiliar territory.
The TodaysArt Festival 2006 line-up consisted of over than 200 acts and artists from over 25 countries. The creative vision of the artists, who showed their own unique interpretation on contemporary creativity in music (e.g. electronic and hip-hop), video- and visual arts, film, photography, fashion, performing arts, theatre, modern dance and many other disciplines and collaborations, was the main focus for this year's festival. The best creative artists from around the world created unique productions and performances especially for the TodayArt Festival. This year utilized specific locations (cultural and public) in the city centre such as Theater aan het Spui, Paard van Troje, the Korzo Theater and the Grote Kerk. Futhermore, TodayArt 2006 proved again to be an ideal event for fruitful collaborations between upcoming Dutch talent and international stars and heroes from today's emerging arts and culture.
The international collaboration in the line-up of the TodaysArt Festival is made possible by many partners from all over the world. As in the previous year, the Berlin festival Club Transmediale represented the creative groups from the German capital and complemented the program with great acts and performances. TodayArt collaborated with organizations from Montreal, Detroit, Tokyo, London, Buenos Aires, and more, giving the festival a profound international character.
Linked to the internationalization is the aim of TodaysArt to bring new talent to the public's attention. Apart from the presentations of upcoming artists and performers, the Royal Academy of Art, the Royal Conservatory, the Utrecht School of the Arts, the Technical University Delft and INHOLLAND all developed unique and prominent projects for the festival.
Date(s)
September 22nd & 23rd, 2006
Venue(s)
Bibliotheek
Filmhuis Den Haag
Grote Kerk
Grote Markt
Grote Marktstraat
Korzo
Mercure Hotel
Nutshuis
Nieuwe Kerk
Paard van Troje
Spuiplein
Theater aan het Spui
City Hall – Atrium
Program
Performance
Antistrot: Bodenständig 2000, H.O.T.T., Lepricorn Island (L&M + Syogo), Nothing Done, Stöma + Eni-Less, [NL/JP/DE] | David Middendorp [NL] - As It Fades | De Garage [NL] - Noise Extravaganza | Dick El Demasiado [NL/AR] - ElectroCumbia Concert | Dylan Newcomb [US/NL] - Burn | Eboman [NL] - SensorMadness | Gezelschap van de Nacht (Florentijn Boddendijk, Remco de Jong, Rosa Reuten, Janna Fassaert, Gijs Naber, Dirk Eijsbouts, Saskia van der Klei) [NL] – Snackbar Tiny | Kombiene + Ernst Reijseger + Jeffrey Bruinsma [NL] - Passaggio / Hymnes | M (Mem Nahadr) + Timeonsampler [US/NL] - Madwoman | Nederlands Dans Theater II + Ohad Naharin [NL/IL] - Minus 16 | PIPS:lab [NL] - The Washing Powder Conspiracy | RecPlay [NL] - Structet: Building Music 1.0 | Shoot Me Film Festival [NL] - Container Film Screenings | Sis Josip + TU Delft [NL] - Scientific Love | Stereo Tower [NL] | Telematique + U-matic + LFT [DE] - Adapteur 6×6

Club
Akufen [CA/QC] | CTM Festival: Jean Jacques Perrey & David Chazam [FR], Candie Hank [DE], Chica Paula [DE], Daniel Meteo [DE], Gudrun Gut [DE], Mobiletti Giradischi [IT/DE/NL], PA Dual (Remco Packbiers) [NL], Schneider TM [DE], Thomas Brinkmann [DE] | Habbekrats: C-Mon & Kypski [NL], Kubus & BangBang [NL/UK], Mike Roelofs Jazz Quintet [NL], Monsieur Dubois [NL], Nobody Beats The Drum [NL], Opgevogeld (De Reiger + Jim Aasgier) [NL], Jam Session | Jaques de la Disque [NL] | Legowelt [NL] | The Orb [UK/CH/DE] | Orgue Electronique [NL] | DJ Overdose [NL] | Serge [NL] | DJ TLR [NL] | Underground Resistance [US]: Interstellar Fugitives, DJ Skurge, DJ Konspiracy | Unit Moebius [NL] | Wasted 3 (Hosted by Jason Forrest and Pure): Venetian Snares [CA], Otto Von Schirach [US], Ladyscraper [UK], The Servants of the Apocalyptic Goat Rave (Sickboy + Bong-Ra) [BE/NL], Pure [AT], FFF [NL], Jason Forrest [US/DE]

Works
Chris Oakley [UK] - The Catalogue | Fred Abels [NL] - Dirk | Godspill [NL] | Gosker Ontwerp [NL] - Look At Me | Habbekrats [NL] - Short Films by Young Makers: Max Porcelijn, Rogier & Emiel, Wouter van Couwelaar, Steffen Haars, Sasha Polak, Bobby Boermans, Job Leijh & Matthijs Hoitsma, Maurice Trouwborst, Bram Schouw | Jarno Burger + MNK + Visual Sensations (SF&L + Resistance Electronique) [NL] - VideoTube | Joey Van Dijk, Chris Pieplenbosch, Maurice Kraanen [NL] - LIFE24 | Leo van der Veen [NL] - Conductive! Liquid! / Social Voltage | LUST [NL] - De Volharding | Matthew Barney [US] - Cremaster Cycle | Maxalot: Build [UK], eBoy [DE], Kenzo Minami [JP/US], Marco Eschler [NL], Miss Van [FR], Peter Zuiderwijk [NL], Pixelnouveau [CR], PSYOP [US], Shepard Fairey (Obey Giant) [US], Universal Everything [UK], WeWorkForThem [US] | Midi Street Instruments: Remco de Jong + Florentijn Boddendijk [NL], Jean-Jacques Perrey [FR], Venetian Snares [CA], Otto Von Schirach [US], Edwin van der Heide [NL], Kettel [NL], Like A Tim [NL], Dijf Sanders [BE], Phako + Red-Jet [NL] | Niklas Roy [DE] - Dokumat 500 | Olaf Mooij [NL] - Braincar | onedotzero [UK] - Container Film Screenings | Panaromax (Jarno Burger + Judocus van Soest + Rob Martens) [NL] - TodaysArt Dome | Paul Klotz [NL] - Cubleu / 512 pb | Royal Academy of Art: Erik Verdonck [NL] - Fashion Box | Underground Resistance [US]: Exhibition with works by Abdul Haqq, Frankie Fultz, Chuck Gibson, Screenings: John Akomfrah + Edward George - Last Angel of History / Mothership Connection + Marco Aluia - 313 Techno | United Visual Artists [UK] - LED Installation | Utrecht School of the Arts [NL] - Student Films

Symposium
Artist Talks and Q&A's | Underground Resistance [US]: The Intersection Between Science Fiction and Sound (Panel w/ Rick Worthy)

Periphery
VillaNuts: Chok Wah Man / Kijkbuiskinderen [NL], Jenny van den Broeke [NL] - Lucifer, Johan Nieuwenhuize [NL], Martijn Rijven [NL], Sil van der Woerd [NL], Yvo van der Vat [NL] - Gesloten Openbare Ruimte
show more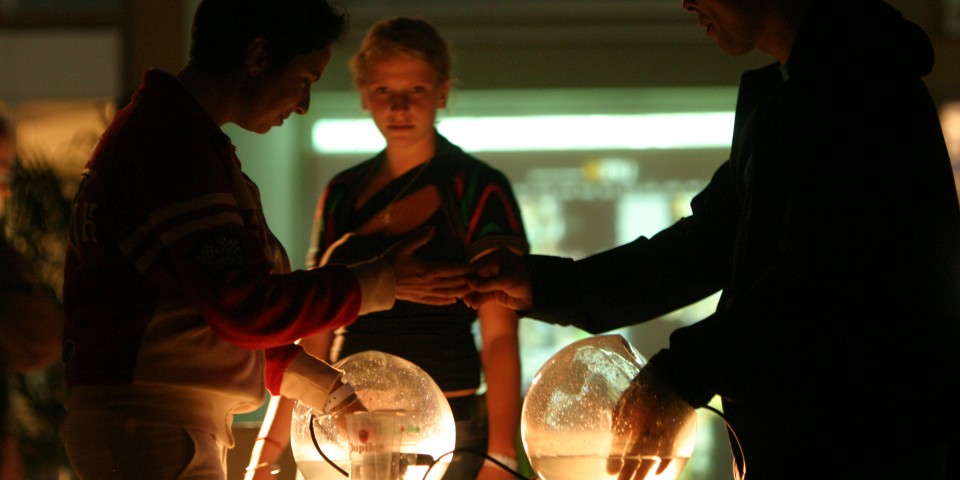 Main Partners
City of The Hague, VSB Fonds, Fonds 1818, Casema Cultuurfonds, Prins Bernhard Cultuurfonds, Goethe-Institut Rotterdam, Embassy of Germany in the Netherlands, Mondriaan Foundation, Kingdom of the Netherlands