This year the 4th edition of TodaysArt took place. Once again, TodaysArt closed the Dutch festival season and primed the cultural season, bringing over 200 artists from all corners of the world to the city centre of The Hague, for a weekend of unique and cutting edge artistic showcases.
This year, the 4th edition of TodaysArt, the international festival for adventurous creativity in The Hague, took place. Once again, TodaysArt closed the Dutch festival season and primed the cultural season, bringing over 200 artists from all corners of the world to the city centre of The Hague, for a weekend of unique and cutting edge artistic showcases in which talented explorers expressed their own personal take on today´s creativity.
In its program, TodaysArt emphasized fresh, innovative and vigorous creativity and new forms of expression. The festival welcomed rising talents and artistic pioneers who boldly explored the possibilities of the new and controversial in a unique setting. TodaysArt offered a musical line-up that has something in it for everyone in nearly all sorts of contemporary musical genres. The thematic structure of the 2008 edition provided the visitor with unusual, artistic perspectives. Architecture, infrastructure, public space and sustainability were approached in unique ways, enabling and creating unexpected encounters and perspectives in the midst of existing urban structures in downtown The Hague. Programmers and curators went through a long, constantly evolving process, filling the venues throughout the city centre with a selection of artistic showcases in the multidisciplinary intersections between music, visual arts, contemporary dance, multimedia art, fashion, professional showcases and other forms of creative expression.
The TodaysArt Festival 2008 was an enticing concoction of both underground and mainstream art forms, ranging from contemporary music to photography, from modern dance to media art, and from workshops to debates.
Date(s)
September 26th & 27th, 2008
Venue(s)
Atrium
Bibliotheek
Cafe de Vinger
Central Station
De Kroon
Dr. Anton Philipszaal
Filmhuis
Gemak
Grote Markt
Grote Martkstraat
Konotori
Lucent Danstheater
Mercure
Nieuwe Kerk
Paard
Rootz
Spuiplein
Theater a/h Spui
Turfmarkt
Volharding
Vrom
Program
Performance
!!! (Chk Chk Chk) [US] | Ben Frost [IS] | Borko [IS] | Byetone [DE] | Chunky Move [AU] - Glow | Compagnie Retouramont (Fabrice Guillot) [FR] - Vide Accordé (Tuning Into Void) / Réflexion de Façade | Crosstown [NL] - Bugsss! / Trapped | Dick Raaijmakers [NL] - De Grafische Methode Fiets | God Is An Astronaut [IE] | Michel Waisvisz [NL] - Shepherding On The Datafarm (performed by Takuro Mizuta Lippit [JP]) | Németh + Hess (Stefan Németh & Steven Hess) [AT/US] | NiCad [NL] | Nouvelle Vague [FR] | Poni Hoax [FR] | Ryoichi Kurokawa [JP] - Parallel Head | Seabear [IS] | Staalplaat Soundsystem + Mike Rijnierse + Achim Wolscheid + Mark Bain + Erik Hobijn [NL/DE] - Station to Station | State Of Sabotage [AT] - Passport Performance | T.R.A.S.H [NL] - ISA | Thomas Ankersmit [NL] | Wo0 + Incredible Bob [RS] | Xavier Van Wersch + Thijs Scheele [NL] - Fruit Power

Club
2562 [NL], Andrea Sartori [IT/DE], Huoratron [FI], Kettel [NL], Mad EP [US], DJ Moodswinger [RS], Piece of Shh… [RS] | Elitechnique [NL], Loud-E [NL], Lindstrøm [NO], Prins Thomas [NO], DJ Serge [NL] | Green: Chymera [IE], Edwin Oosterwal [NL], Joris Voorn [NL], Rejected (Joris Voorn + Edwin Oosterwal), Robert Babicz [PL/DE] | Modern Love Showcase: Andy Stott [UK], Claro Intelecto [UK], MLZ [UK], Pendle Coven [UK] | MUTEK: Chic Miniature (Ernesto Ferreyra + Guillaume Coutu Dumont) [AR/CA], Deadbeat [UK], Frivolous [DE/CA], Isolée [DE], Pier Bucci [CL/DE] | Ole Records [DE/NL]: Rene SG, Numuw, Kornreiniger, Mark Boombastik, Bertin, O Tannenbaum DJ's | Underground Resistance + Bunker + Creme Organization: Aquanauts (UR) [US] | Kassen [NL] | Legowelt & Orgue Electronique [NL] | Not Happy Jan [AU] | Pawel Blot [PL] | DJ Stingray [US] | DJ TLR [NL]

Works
<>TAG: Sander Veenhof + Jérome Meyer + Karin Mientjes [NL] - Sousveillance, Tjerk Stroop [NL] - Statlab#2 | Alex Schaub [NL] - Sonic Kitchen | ArtScience [INT]: Hitching a Ride / As If | Bram Vreven [BE] - Vloei - Flow I, II, III | Carsten Nicolai & Olaf Bender (raster-noton) [DE] - White Line Light | Channa Boon [NL] - Limpiar El Museo | Charles & Sarah [BE] - Concrete Burden | Daan Brinkmann [NL] - Lines | Frederik de Wilde + LAb[au] [BE] - EOD02 | Godspill [NL] - Like Any Religion You Need Salvation and We Need Your Cash! | Ief Spincemaille [BE] - A-topos | Ramptourism: Interactive Skatepark | Jeroen Jongeleen (Influenza) [NL] - A Little Movement | Jiacong Jay Yan [CH/US] - We Only Come Out At Night | Juriaan Moolhuysen [NL] - Pure Nature | Kristina Kersa [NL] - I Sing as the Birds Sings | LAb[au] [BE] - PixFlow #2 / f5x5x5 | LUST [NL] - Blue Light District / Artificial Rainbow / Flare | Mark Formanek + Datenstrudel [DE] - Standard Time | Maxalot [NL] - Processing Light: C.E.B Reas [US], Dextro [AT], Eno Henze [DE], Jim Soliven [US], Karsten Schmidt [DE], LIA [AT], Marius Watz [NO], Michael Paul Young (YouWorkForThem) [US], Neil Banas [US], Pedro Mari [IT], Quayola [IT/UK], Tina Frank [AT] | Miss Hecker (Lily Wittenburg + Danny Gretscher) [DE] | NEMO Festival (Arcadi) [FR] - Shorts Panorama / 3D Kids | Pablo Valbuena [ES] - N 520437 E 041900 [The Hague City Hall] | Pictoplasma [UK/DE] - Character Collision Army / Characters In Motion | PLANETART: ArcAttack [US] - Singing Tesla Coils | René Uijlenhoet [NL] - Son of Wired Life | Robert Kluijver + Charlotte Huygens + Ingrid Rollema [NL] - No Man's Land? | Sebastien Wierinck [FR] - Entuber La Haye | Staalplaat Soundsystem + Mike Rijnierse + Achim Wolscheid + Mark Bain + Erik Hobijn [NL/DE] - Station to Station | State Of Sabotage [AT] - Typing Pool | Teletekst is dood [NL] - Creative Overdose | V2_: Di Mainstone [UK] - Sharewear | VillaNuts - Interactive Playground: Marcus Graf + Andrea Reyes Elizondo [AT/MX] - 26-27 I, Ball / Narcissus Pool / One vs 20,000 | Raymond Deirkauf + Beyond Expression_Lab (Patrice Bäumel, Nuno dos Santos, Jarno) [INT] - Rays 2.0

Symposium
Mastermundo - Werner Vogels (Amazon) | Ethan Zuckerman (Global Voices / Berkman Center for Internet and Society) | Alrik Koudenburg (Lead by Example) | Michael Tchong (Ubercool) | Laurent Haug (LIFT conference) | Stefan Agamanolis (Distance Lab) | Rafi Haladjian (Ozone / Violet) | Arjan Dingste (UN Studio) | Jeroen van Erp (Fabrique) | Fons Schiedon

Periphery
Antilounge: Charly & Gallus [NL], Geazah [NL], Maartez + Frits de Vos [NL], Paulo Sossa [NL], Rät N FrikK [NL], SCLE [NL], Thesis [AU] | Bright - Lounge | Cinedans - Screenings | Club Zonder Filter - Snorrenbar | Drop: BL Striker [NL], Erjee [NL], DJ Lowman [NL], Narain Ashad, MC CJ Fillaz & Flakkapief [BD/NL], Willy Valanga + Il Nano [IT] | Fallen [INT] - Ride The Sky | Liefhertje & de Grote Witte Reus (LhGWR): Marsel Loermans + Anton Spruit [NL] - Volgend station: Het Paradijs | Lucent Danstheater: Brenda Angiel Aerial Dance Company [AR/INT] - Air Condition | Mochi - Retaurant | Red Bull Music Academy Radio

show more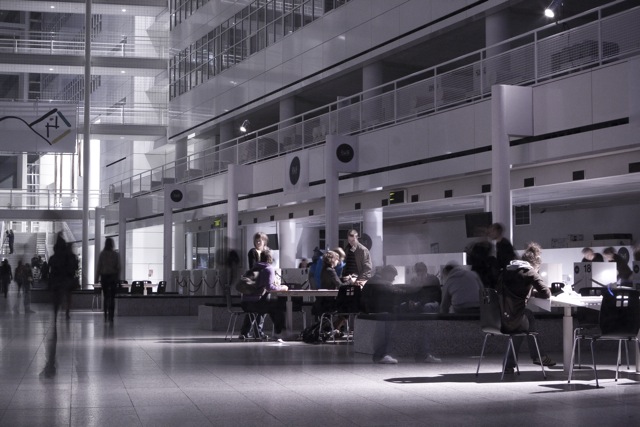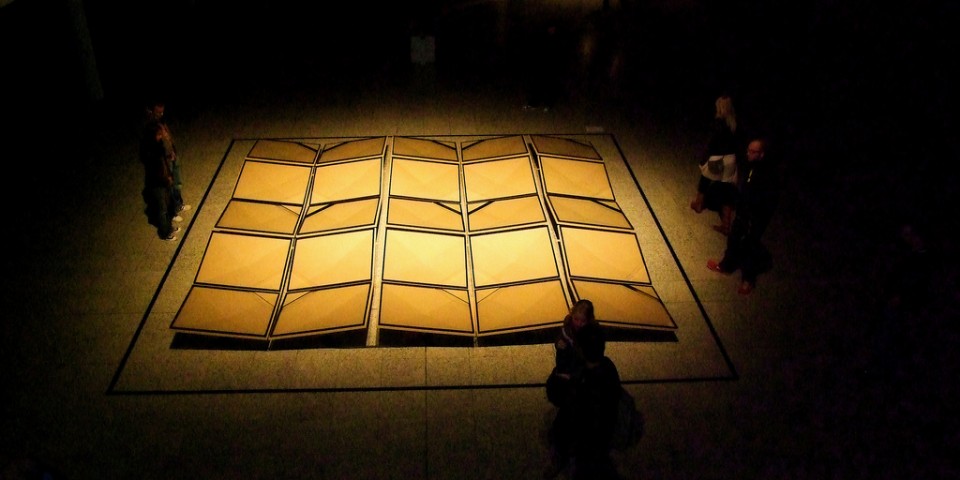 Artistic Statement
Like every year, it has been a wild and amazing ride from concept to festival. The thematic structure of the 2008 edition provided the visitor with many unusual, artistic perspectives. Architecture, infrastructure, public space and durability were approached in unique ways, enabling and creating unexpected encounters and perspectives in the midst of existing urban structures in downtown The Hague.
In its program, TodaysArt emphasized fresh and vigorous creativity and new forms of expression. The festival welcomed rising talents and artistic pioneers who boldly explore the possibilities of the new and controversial, offering them a place in the spotlights to openly express their talent in the field of music, visual arts, media art, photography, modern dance, fashion, theatre, film, screenings and presentations.
TodaysArt 2008 seeked to address and foster new approaches to place and spatial definitions in the city, from the pavements and streets to the semi-public spaces of clubs and theatres, creating new relationships and connections. Our living, working and public spaces are all affected by increased mobility, ubiquitous networking via communication and information technologies, the blurring of public and private space, and environmental concerns: the telephone for instance morphed into a multi-purpose mobile communicator that eclipsed the enclosed privacy of the phone booth that was once a feature of modern cities, and Wi-Fi is already having an impact on the way we work, communicate, and the way we use semi-public spaces such as cafes or waiting areas. This development has of course not gone unnoticed by contemporary artists, and work related to this theme was shown all around the festival terrain.
The festival took place along an imaginary axis, which ran roughly from The Hague Central Station to the Paard van Troje. Along this axis, architecture and roads are the dominant shapes of our city habitat, firmly setting our emotional experience of the area in unmoveable stone and iron. Or so it seems.
TodaysArt explored adaptations that make city-space newly malleable and liveable, replete with redefinitions that create unforeseen encounters and chance collisions; fresh situations in which new worlds can be discovered in the midst of existing urban structures. Under the theme 'giving meaning to space does not always require building a solid form around it', the festival explored new concepts of urban space in the city centre.
The festival also explored unique takes on the subject of durability, an ever-growing concern in today's world. It is the aim of the organisation to evolve TodaysArt into a more environmental friendly festival. This year is the start of that process. As everyone has been confronted with environmental problems, so have the artists. And they have drawn creative inspiration from it, resulting in refreshing and exciting new views on the subject.
TodaysArt supported its concept by offering a musical line-up that featured nearly all sorts of contemporary musical genres. The Dr. Anton Philipszaal was coloured blue for the first time in TodaysArt history. Artists and bands turned this big concert hall into an inspiring and rocking venue where dancing was required. Venues such as Theater a/h Spui and the Nieuwe Kerk were equipped with highly artistic musical performances combining sophisticated music and new forms of technology. Once again, the roots of TodaysArt expressed themselves through various upcoming and legendary artists and underground collectives linked to The Hague. Every edition, TodaysArt presented a unique performance by the legendary Underground Resistance forces from Detroit. This year, the Aquanauts surfaced for the first time outside of Detroit for a legendary hard hitting ghetto tech UR party in The Hague. The Paard van Troje was the closing venue for the TodaysArt axis through The Hague's city centre. An amazing program by Montreal's MUTEK festival, an upfront showcase of Manchester's Modern Love label and pioneering space disco sounds from Norway and the Netherlands lead the club into the nether regions of the night.
Underground VS Overground
The TodaysArt Festival is an enticing concoction of both underground and mainstream art forms, ranging from contemporary music to photography, from modern dance to media art, and from workshops to debates.

Given that The Hague is not typically seen as a contemporary creative centre, it's perhaps curious that it was the birthplace of the TodaysArt Festival. Olof van Winden, festival director and founder explains: "Shortly after I moved here, my contemporaries at the Hotel Management School complained there was nothing to do, while most of them didn't even know which tram went to the city centre... The Hague is anything but boring. It has a fascinating and lively cultural history. The Hague was, in fact, the Dutch centre of creative underground forces in the 1980s and '90s, starting with the chaotic squatter scene. These squatters were probably the first to discover acid-house, and after a 'summer of love' in 1988 fuelled by copious amounts of XTC, a number of initiatives, inspired by the sounds of Detroit techno and Miami Bass, were turned into labels, such as Bunker Records (1992) and Motorwolf (1996). At the same time, institutions such as the Royal Academy of Art, the Royal Conservatoire, Netherlands Dance Theatre, and the Korzo Theatre provided the city with more institutionalised, mainstream input. Yet contact between the two 'worlds' was almost non-existent."

Olof continues: "The underground scene was huge in the '80s. Even today, when it comes to music, the city has about fifteen active underground venues, compared to two or three in Amsterdam and Rotterdam… combine this with how many artists are drawn here because of the Royal Academy of Art and the Royal Conservatoire and you have a city bursting with underground and 'aboveground' creative potential. Then at the end of the '90s, the city fell into a sort of cultural vacuum when one of its largest nightclubs closed down, prompting events, such as <>TAG, Club Geluk, as well as art collectives and underground venues to fill the void. It was this that eventually led to the birth of TodaysArt."

At the start of the new millennium, Olof and others began to organize parties in a department store in the city centre. The concept worked and in 2002, it evolved into the Sound/Vision Festival, which attracted 10,000 visitors. After problems with permits, the city council withdrew its support, but Olof organised a new event in 2003, the Cultuurnacht (Night of Culture), which later became the TodaysArt Festival. The bridge between experimental and mainstream creativity in the city had been built. Olof explains: "Cultuurnacht and TodaysArt were built on the creative foundations of the city. The concept revolves around the notion that it's possible to breach the barrier between popular and experimental creativity by inviting both to join forces. Together they've yielded unexpected and adventurous results. We looked for different forms of collaboration, and ended up with unique cultural fusions. When we started, we were looking for a fresh approach to mixing new and underground art forms with the mainstream, and we wanted a multilayered musical line-up, instead of just focusing on dance or trance. Our aim's always been to look past the conventional and present a balanced programme of popular as well as experimental music acts and upcoming talent. This is why TodaysArt has grown so quickly, with the line-up becoming more international, and making the creative collaborations fascinating to a more international audience." This international component has led to partnerships with other festivals all over the world, such as Club Transmediale in Berlin, MUTEK in Canada, Rokolectiv in Romania, and the Detroit Electronic Music Festival. Olof continues: "We showcase Dutch talent, and link Dutch creativity to the rest of the world. In return, we invite these festivals to showcase their talent here."

Besides artistic director Olof van Winden, TodaysArt is compiled by programme director Remco Schuurbiers, dance curator Anne-lyke van den Elshout and art & technology curator Hicham Khalidi. Remco Schuurbiers: "The festival doesn't really have a strict theme, but there are guidelines that take us in a certain direction. Through conversation and developments in society, art and science, we slowly compile a coherent programme. Our terrain this year is the 'the city's axis', a route running from the Central Station to the Grote Markt. It's a symbolic theme... essentially the axis represents a division, because we look for boundaries, crossroads and areas of tension. Architecture plays an important role at TodaysArt 2008. How can the clash between old and new and more city traffic be positively influenced by relatively small interventions, and how can we help people identify more with their surroundings?"

"Programming a festival isn't just the curator's job; there is room for input from art collectives, artists, all of the TodaysArt team, and people who are simply admirers of the city. It's an adventure that's never finished. A key element therefore is the role of the artists. We try to involve them at a very early stage, inviting them to help plan the event, and bringing them into contact with other participants. We walk them around the festival area, tell them about the concept and listen to their suggestions. This has led to new collaborations and ideas, and a more consistent festival."

Anne-lyke van den Elshout adds: "There's a lot going on in the world of dance. As well as the renowned dance groups and production houses, there is a growing number of independent choreographers who explore absolutely everything around them.

At the same time, more and more acts, such as, DJs, architects, and soundscape and video artists are curious about what movement and dance can bring to their work. Dance visualises music and sound, and can manipulate a space."

"Collaborations have of course happened before, but there is a relatively limited platform for this experimental yet high calibre work. TodaysArt supports and encourages this. A prime example this year is Sous-veillance, which was initiated by <>TAG, in cooperation with TodaysArt." "Dance is important for a number of reasons. The festival brings modern dance to a new, young audience. At the same time, we counter rumours that dance is 'dead' and that there's nothing 'new' going on. The reality is that, both nationally and internationally, these are great times for dance, as there are so many new things going on. We provide these initiatives with the opportunity to reveal themselves to a wider audience."

Underground Critical Mass
The combination of underground critical mass, the input of many high quality cultural institutions, lots of great artists, and the dedication of enthusiastic, adventurous, and creative individuals have culminated in a multidisciplinary art festival that simply couldn't have evolved anywhere else. So, does The Hague deserve its 'boring' image? The answer is an emphatic 'No.' A variety of new initiatives means that the city now has more events and festivals during the summer than anywhere else in The Netherlands. Add to this mix the TodaysArt Festival, an event that is not only firmly rooted in The Hague's art scene, but is now recognised as a highlight of the Dutch cultural season, and it's clear the city's staid reputation should be reevaluated.

show more
State of Sabotage - The Typing Pool
Matrix, territorial phantom; a sovereign- state, completely detached from geography, with its own currency, a constitution, embassies and extensive art collection; its 'nomadizing' citizens bound together by idealism rather than terrestrial concerns.

Thirty typewriters. Thirty secretaries. A stylish mid-century typing pool. A parody on bureaucracy in the heart of The Hague's sleek civil administration centre: the City Hall. For the TodaysArt festival, the 'Ice Palace' became host to a temporary State of Sabotage embassy – complete with not only a typing pool taking down decrees, but covert administrative staff ready to issue passports to newly signed-up citizens. The temporary embassy, a portal to the parallel political reality explored by State of Sabotage, gave away 1,000 brand new passports. —So, what is State of Sabotage? It's a fast growing de-spacialisation project with roots going back to Austrian techno and the 90s European art scene around Documenta. It was once part music label, part art organisation, and has now developed into a micro-nation, a counter-country, an ephemeral state. SoS founder Robert Jelinek often cites the novel 'Survivalist 1: Total War', which established that America is not a geographic place, but rather a concept. SoS too then, is nothing more than a concept, and nothing less than a real state. It's a project designed to supersede existing statehood, to surpass the impractical, land-bound concepts of now, and embrace the space and border-free zones of the future with citizenship based on networks and connections between people, no matter where they exist physically.

"SoS is a design for life, a parallel alternative to existing forms, developments and impending conflicts," says Curd, SoS spokesperson. "The model deals with conflicts of classification and interpretation without abandoning the social, because it is at these points that one can locate decisive, as well as tangible, conflict zones. SoS is committed to civic values in the best sense of the word – such as education, culture, democracy and human rights."

"A state," he says, "is the highest existent authority because it is more static than the other forces that influence our lives. On the other hand, the state is subject to these same forces, yet it lags helplessly behind emerging cultural, scientific and technological developments."

The 2,000-plus citizens, a passport, along with currency and land ownership – SoS has acquired territory in Australia – make SoS a fairly sizeable micronation. They've established de facto diplomatic relations with several other well-established micronations like the Principality of Sealand, a sovereign ex-oil rig, as well as a growing list of 'proper' nations including Australia, Switzerland and Hungary. Even the United Nations has given SoS a de facto nod of recognition.

The line between real and not real, intentional and unintentional is continuously blurred. SoS passports look so authentic they've caused brushes with Homeland Security in the US, and are reportedly bought and sold on the black market in Nigeria. Curd continues, "…SoS parasitically foils state dominance with, for example, its passport policies that grant de facto recognition to African migrants, thereby enabling them to visit countries they had been forced to leave." This despite statements on the website of the SoS cyber-embassy that the passports are merely an 'art project'.

SoS embassies have popped up in a long list of locations: the Sonar festival in Barcelona, the Assembly of European Regions conference in Udine, Italy and the Repellent festival in New York. In September, the embassy in The Hague was set up, for the first time ever, in a recognised administration centre. Using the City Hall, and indeed The Hague as a backdrop, sharpened the impact of the SoS project. "All Sabotage activities are based on context, space, time and audience – these are the principle coordinates for conceptual work and the dramaturgy," says Curd.

"But for this piece we needed an official site located in the world of civil administration. The Hague remains a synonym and symbol for international criminal justice, a massive administrative machinery of over 150 organisations, like Europol, the patent office and of course the residency of the Dutch crown. SoS is always interested in this kind of friction."
show more
raster-noton
Colour Organs and Sound Palettes
raster-noton, archiv für ton und nichtton, is a renowned electronic music label based in Chemnitz, Germany. raster-noton defines itself as a platform or network operating at the boundaries between pop, art and sonic research. At TodaysArt 2008 raster-noton featured an audiovisual performance by Byetone (Olaf Bender) and the White Line Light installation by Carsten Nicolai and Olaf Bender.

The story of raster-noton is of course about their delicate electronic sound reductions, their pristine and funky music, but it's equally about explorations of the audio-visual; experiments conducted in the tradition of a long line of 19th and 20th century artists and scientists exploring the borders of the aural and optical. The dream of melding sound and light goes back a long way before maturing into serious study when electricity opened up new possibilities for projected light. Electromechanical techniques were exploited by the British painter Alexander Wallace Rimington, who in 1893 filed a patent for an early colour organ – the Clavier à lumières. Similar ideas were explored by Italian Futurists Arnaldo Ginna and Bruno Corra, and the Russian Futurist Painter Vladimir Baranoff Rossiné in the early 20th century. By the 1940s, when film had become an established medium, Los Angeles filmmakers and brothers John (1917–1995) and James Whitney (1921–1982) were experimenting with a project known as Film Exercises, in which the image generates the sound.

From the outset, raster-noton's activities were premised by a desire for visualization of sound. Each of the co-founders is deeply involved in the visual: Carsten Nicolai is a well known visual artist, Olaf Bender is a graphic designer and artist, and Frank Bretschneider is a sound/video artist. The label itself has always been understood as a platform where auditory and visual manifestations merge, and they explore the architecture of sounds using software, light, installation, video and sculpture.

Hearing the Inaudible, Seeing the Invisible
For Carsten Nicolai, the focus on the meeting point between sound and vision has been deeply analytic. He has made a huge impact on both visual art and electronic music with his navigations of the territory where they intersect; in much of his work sound and visualisation are inseparable. Nicolai explores the many manifestations of sound in the visual world through experiments with sonic imaging, using laboratory equipment such as oscilloscopes, wave tanks, chemical flasks, particle cloud chambers and electron diffraction tubes. The division of our senses, and the spaces that are a fundamental to our conceptual constructs are challenged by the work of Nicolai. He points us toward the world that exists beyond our limited perceptions – an alien, ordinarily inaccessible world of pristine beauty – and reminds us that our environment can be comprehended in a multitude of ways.

White Line Light
Two long, parallel lines of hand-made neon lamps suspended in a darkened space; their flickering intensity directly linked to electrical clicks, pops and drones that create the surrounding atmosphere. The 8 metre long, delicate lighting rig is the focus of White Line Light, work from Carsten Nicolai and Olaf Bender featured at the TodaysArt festival. According to raster-noton: "The sound and light work of Carsten Nicolai and Olaf Bender explores the limitations of what we can see and hear. Taking this as a point of departure, White Line Light uses electricity as a conduit to identify, define and lend shape to the invisible and inaudible phenomena found in our midst, at the same time creating a palpable tension between the work itself and its unique architectural setting."

Nicolai and Bender focus on the electrical generation of waves to highlight the similarity between what are fundamentally different physical phenomenon: sound and light. "Human perception is basically oriented towards visual and sonic environment. Although the incoming signals have different impacts on our senses, they are all based on the same phenomenon: energy that spreads in a wavelike manner" explains raster-noton. "The eye can hear, the ear can see - the interlacing of the visual and auditive spheres aims to create awareness of, and differentiated understanding of our surroundings. The installation thereby reflects the philosophy of the raster-noton label to both serve as a platform to explore and perceive new experiences and to focus on shaping new visual features." A raster-noton listening station and a presentation of selected artworks that have been released through the label accompanied the installation. So far the catalogue of the label consists of over 70 releases. Most of the projects follow the concept of a series with contributing artists such as: William Basinski, Alva Noto, Ivan Pavlov (Coh), Ryoji Ikeda, Byetone, Ryuichi Sakamoto or Carl Michael von Hausswolff.
show more
Greetings from The Hague
The roots involved in the guerrilla gardening activities we undertook this year, were not the only ones represented. Once again, the roots of TodaysArt in The Hague expressed themselves through various upcoming and legendary underground collectives such as Bunker, Crème Organization and Antilounge. Next to TodaysArt 'residents' Legowelt and Orgue Electronique, there were many other The Hague-based artists performing at TodaysArt 2008 such as: 2562, Charly & Gallus, DJ TLR, Elitechnique and NiCad.
show more
LAb[au] - MetaDeSIGN / Un-Architecture
LAb[au] (laboratory for architecture + urbanism) is an interdisciplinary lab working in the blurry areas between architecture, design and computer science. They create installations and interventions that challenge us to examine space in fresh and unconcrete ways.

For LAb[au], the Brussels-based interactivity specialists, urban space and the structures that define it have become fluid. Communication and relationships have replaced bricks and mortar as defining structural features, and the resulting projects – where pixels move from the screen into the real world, walls and furniture respond dynamically to the environment, and where fish-communication is channelled into signals we can see and hear – are startling.

"The technological developments of the past thirty years have given rise to a major shift from the industrial to the post-industrial information society," says Els Vermang, one of the group's four members, "units of information increasingly define our notions of body, matter, space and time." Now its new technologies, she explains, that are the biggest influence on both the spaces we inhabit and how our lives are organised within those spaces.

LAb[au]'s response to the shift? To develop a creative approach that collapses normal urban, architectural and personal space. They foster fluidity between technology, structures and people in their varied projects based on what they call 'MetaDeSIGN', an approach that can be corralled into one discipline, but is informed by many. It's neither architecture, nor art, nor theory, but has elements of all these things. Vermang, an architecture graduate who's been with the collective since 2003, describes their creative approach as "a transdisciplinary and collaborative methodology that examines the transformation of architecture, art and design. Metadesign displays the theme of space and time relative to information processes – architecture as a code."

The group is best known for its work with the 38-floor Dexia Tower in the centre of Brussels. One of the projects using the building, 'Touch', illuminated 4,200 of the tower's 6,000 windows with complex animated light patterns. The 150,000 LEDs were controlled by visitors on the street below via a touch screen, becoming a spectacular, 145-meter interactive light show.

The LAb[au] collective applies MetaDeSIGN to projects in buildings, public spaces and galleries, as a collective and often in collaboration with other artists and designers. Some of their projects are architecturally orientated, like the Dexia Towers, but many have nothing to do with buildings at all in a traditional sense. All of their projects however, use technology to explore the new spatial relationships that have sprung up with technological development, and all nod simultaneously toward computer science, cognitive science and Bauhaus.

A good example of such a project is Pixflow#2, is a generative artwork showing a vector field and moving particles/pixels shaping into flows as their density evolves. From the mutual influence in between vectors and particles results an unsuspected, highly evolving behavior. PixFlow #2 is running on an 'art-console', crafted by LAb[au], a T-shaped Plexiglas box, integrating 4 stripped screens and 4 networked computers. Four flash-cards containing operating system and executable file, can be easily swapped with other cards, containing future, generative artworks of LAb[au]. The console can be wall mounted, placed horizontal on a desk or on the ground, or standing vertical.

TodaysArt also featured LAb[au]'s kinetic screen piece, called 16n_ ƒ553. The system gives pixel information a real world, spatial presence. Data sent to the screens is reinterpreted into 3D-patterns of flickering movement across 125 cells, each of which can spin and twist in multiple ways to form simple characters and symbols or complex patterns. Motion sensors track and log information about the environment, like someone walking past, as binary data that is transposed immediately into 3D-animated displays. The complete project will be made up of five 'frameworks', which combine to become a ten-metre-long piece: a wall that reacts to the presence of people.

But it's the presence of fish rather than people that drives LAb[au]'s 'EOD02fish' project, also featured at TodaysArt. In collaboration with artist Frederik De Wilde, LAb[au] set up an installation to reveal the signals of a particular species of fish that communicates with electrical signals. The low-voltage signals are picked up by antennas in the tanks and converted into sound, allowing us to tune-in to a world we would never normally perceive. Listeners were able to eavesdrop on a species that perfected electronic communication millions of years before we did.
show more
Poetic Transformations
Visionary, grass-roots transformations of urban space have a long pedigree. Seed-bombing, for example, began as part of the Guerrilla Gardening movement that sprang up in New York in the early 1970s. An early manifestation of the fledgling environmental movement, bombers covertly seeded neglected places and cultivated gardens from wasteland, intent on creating a green revolution armed only with spoons, seed packets and watering cans. Thirty years on, Guerrilla Gardening and the greening of cities has come of age, now recognised as a burgeoning element of urban design with increasingly experimental applications being drawn from evolving concepts of 'green' and 'garden'.

TodaysArt, as an international festival that is high impact and 'placeless' by definition, moved towards greening, local focus and environmental responsibility in 2008, first seeking to reduce its global footprint and second, to positively transform urban space with innovative interventions in The Hague's downtown centre.

With grass-roots interventions, TodaysArt aimed to create heterotopic public spaces. Recognising architecture – physical and programmatic – as a network, and urban space – local, physical and virtual – as powerful unification, the festival explored 'meaning' and 'place' with methods that are independent of traditional structures. The main square was filled with mini-greenhouses: un-volumetric spaces that speak of germination and low-tech renewal; ephemeral, pet architectural reflections of the 'Ice Palace' that looms behind. Temporary gardens were developed for unlikely spaces: a bamboo grove on the roof of Kontori, a screen of conifers to shield pedestrians on the Spui from traffic, and flickering light-scapes on the walls of the library all softly altered the city's ambience. By transforming everyday activities with green methodologies, by using everyday technologies for green interventions that exploit the ambiguity of urban spaces, by expanding the poetic fluidity in and between existing structures, TodaysArt tapped the potential in the The Hague's city centre and projected it into the future.
show more
Dis-Patch
TodaysArt engaged in a new collaboration with Serbia's most adventurous festival of cutting edge music and related art, Dis-Patch. With similarities in aims and approach, Dis-Patch and TodaysArt came together for a first time collaboration for the occasion of the 2008 editions of both festivals in Belgrade and The Hague. The political relationship between The Netherlands and Serbia has been - and is currently - under a lot of tension. The cause is a selection of political events taking place at the International Criminal Tribunal for former Yugoslavia, in The Hague. Through forms of artistic and cultural collaborations, TodaysArt and Dis_Patch aim to improve these political tensions.

Dis-Patch presented performances at TodaysArt 2008 by Wo0 (Belgrade Noise Society), Piece of Shh… and DJ Moodswinger. At Dis_Patch 2008 TodaysArt presented performances by Telco Systems, Optical Machines, 2562 and Xavier van Wersch.

show more
Modern Love
The stylistic characteristics of Modern Love artists such as Andy Stott, Claro Intelecto, Deepchord, Echospace and Pendle Coven can best be described by looking at the sound of the Modern Love label as a whole - this is music designed for the dance floor with a bass obsession motivating and guiding every progression, break and change. Their showcase at TodaysArt resulted in an amazing night with performances by Andy Stott, Claro Intelecto, Pendle Coven and MLZ.
show more
MUTEK
Since its first edition in 2000, the MUTEK festival in Montréal, Canada, has distinguished itself as an international rendezvous for original and avant-garde programming. In terms of content, the festival's range strives to be diverse, with interests in both the experimental and the playful sides of digital creativity. MUTEK intends to create a sonic space that can support innovation in new electronic music and digital art. Over the years, the MUTEK festival has presented a considerable number of internationally renowned artists while simultaneously providing an important showcase for upcoming talent. The festival provides an open, inviting environment that encourages rewarding exchanges between artists, professionals, and the public; MUTEK is a point of convergence, drawing participants from all over the world to profit from a context of active discovery. TodaysArt was very proud to present a unique MUTEK program as announcement of their 10th anniversary through a selection of pioneering electronic musicians: Deadbeat, Isolée, Pier Bucci, Chic Miniature and Frivolous.

show more
Main Partners
The Generator, City of The Hague, VSB Fonds, Fonds 1818, SNS REAAL Fonds, Mondriaan Fund, Performing Arts Fund NL, Casema Cultuurfonds, Nederlandse Spoorwegen, Ballast Nedam