TodaysArt 2011 took place on the 23rd and 24th of September in the city centre of The Hague.
Date(s)
September 23rd and 24th, 2011
Venue(s)
Spuiplein
Theater aan het Spui
The Hague City Hall
Filmhuis Den Haag
Paard van Troje
Korzo
ANNA@KV20
Program
Performance
Game Of Life [NL] - Wave Field Synthesis | Gob Squad [UK/DE] - Saving the World | Hiroaki Umeda [JP] - Holistic Strata | Kevin Drumm + Thomas Ankersmit [US/NL/DE] | Martin Messier [CA/QC] - Sewing Machine Orchestra | Martin Messier + Nicolas Bernier + Alexandre Landry [CA/QC] - La Chambre Des Machines | MCDance [CH/FR/DE] - Imagine | Monolake [DE] - Live Surround (Visuals by Tarik Barri [NL]) | Murcof [MX/ES] + Simon Geilfus (AntiVJ) [BE/UK] | Transforma + YRO [DE/FR] - Asynthome | Sculpture [UK] | STEIM [NL] - Errors of Delight: Jamie Allen [UK] - Circuit Music, Moldover [US], Rosa Menkman + Áron Birtalan [NL/HU], TO-PO (Yuko Uesu + Vincenzo Onnembo) [JP/IT] | Vladislav Delay Quartet [FI/AR/DE]

Club
Awesome Tapes From Africa [US] | Bakir [US] | Baris K [TR] | Bo Marley [DK] | Canibal Negro [AR] | Chloé [FRl] | Daedelus [US] | Dandy Jack [CL/CH] | Danton Eeprom [FR/UK] | Db-eat [NL] | dÉbruit [FR/UK] | diskJokke [NO] | Disrupt + Soom T [DE/UK] | Dompteur Mooner [DE] | Elektro Guzzi [AT] | Fauna [AR] | Hyphae [NL]: Todd Osborn [US], John 'Jammin' Collins (UR) [US], Mark Flash (UR) [US], DJ Duct [JP], DJ Wessun [JP], Telly [JP] | Jacek Sienkiewicz [PL] | Jazzsteppa [UK/DE] | Kangding Ray [FR/DE] | Los Refrescos (Martin Schopf + Argenis Brito) [CL/VE] | Lunice [CA/QC] | Luomo [FI] | MNML SSGS [JP/AU]: Oni Ayhun + Mar Ritt, Peter Van Hoesen [BE], Raime [UK], Senking [DE], Ancient Methods [DE], Delta Funktionen [NL], Ulf Eriksson [SE], Eli Verveine [CH], Nuel [IT] | Munchi [DO/NL] | Plapla Pinky [FR] | Rootah [DE] | Todd Terje [NO] | tomlaan [NL] | Toy Selectah [MX] | Tros Banana [NL] | Un Mono Azul [AR]

Works
Arion de Munck [NL] - Vierkant en Rond | Babette Wagenvoort [NL] - Drawn | Bring Your Own Beamer (a concept by Rafaël Rozendaal organized by Jorick.TV) | Chico MacMurtrie (Amorphic Robot Works) [US] - Totemobile | Coen Hoogstraten [NL] - Lichtbloem | Collective Works (Peter Zuiderwijk + Karin Mientjes) + Carolien Teunisse [NL] | DUS architects [NL] - Bucky Bar | Frederic Brodbeck [DE/NL] - Cinemetrics | Julian Oliver [NZ/DE] + Damian Stewart [NZ/AT] + Arturo Castro [ES] - Artvertiser | Keg de Souza [AU] - Gigloo | Lucas Abela [AU] - Vinyl Rally / Mix Tape | Matthias Oostrik [NL] - PLPLPL.PL PT.7 | Maurice Bogaert [NL] - The Apartment (WORKSPACE 11) | Netherlands Media Art Institute [NL] - MediaArtMobile | Refunc [NL] - Shadow City | Raumlaborberlin [DE] - BXL | Resolume [NL] - Avenue 4 | Royal Academy of Art [NL] - PlayLab | Sander Veenhof [NL] - AR Guide | Shoudio [NL] - Locative Storytelling | Tiemen Rapati + Charlie Berendsen [NL] - Escape | Universal Mediaman [NL] - Dagaz | VR/urban [DE] - SMSlingshot | WdKA [NL] - Storytelling in the City + One-Minute Sculptures

Awed Into The Great Wide And Open (curator: Martijn van Boven [NL]): Gerard Holthuis [NL] - Hong Kong (HKG) | Gordon Matta-Clark [US] - City Slivers + Sous-Sols de Paris | Graham Ellard + Stephen Johnstone [UK] - Things To Come | SemiConductor [UK] - Matter in Motion | SilentUK - Crack the Surface | Steina Vasulka [IS/US] - Urban Episodes | Thom Andersen [US] - Los Angeles Plays Itself

Symposium
Performance Architecture / Urban Strategies / Shadow Cities: Ewen Chardronnet [FR] - MyCityLab, Pedro Gadahno [PT] - Architecture as Performance, Jan Liesegang + Axel Timm (Raumlaborberlin) [DE], ZUS (Zones Urbaines Sensibles) [NL], Martine de Wit (DUS architects) [NL] | Bradley L. Garrett [UK] - Crack The Surface / Urban Exploration Q&A | DYNDY (Jaromil) [IT/NL] - Imagine The Future Of Money | Arturo Castro [ES] - Artvertiser City Walk | Game of Life [NL] - Wave Field Synthesis

Workshop
Arturo Castro [ES] - Artvertiser | Coen Hoogstraten [NL] - Lichtbloem | Game Of Life [NL] - Wave Field Synthesis | Moldover [US] - Build Your Own Light-Theremin | Edwin de Koning [NL] - Resolume Avenue 4 | Sander Veenhof [NL] - AR Guide | School Voor Jong Talent [NL] - Shelters | The Boy Toys (Tom Lugtmeijer + Mike Kokken + Gilles de Brock + Mister Three) [NL] | Theater aan het Spui [NL] - Radio Herman

Periphery
1646: Theo Marks [US] + Han Orsel [NL] – The Root of Bluegrass | An Other Night With State-X New Forms - Slyder [NL], Felixbrodt-Harari-Ziblat Project [IL], SXNF DJ-Crew [NL] | BASZ: Generate [NL], Tech Chic Design [NL], Rät N Frikk [NL], Loyu [NL/LV], The Specialist [NL], Differenc [NL] | BEATLAB 330 - Cinnaman [NL], FilosofischeStilte [NL], Deadstokdonut [NL], Ill Tovver [NL], Robby Brighton [NL] | Koorenhuis | LhGWR: Sander Reijgers [NL] - Art belongs to a nail | Pecha Kucha Den Haag #7 | Shoot Me Film Festival | Super Mini Feest: DJ Yobkiss [NL], Compression [NL] | TAG: Rory Pilgrim [UK], Louwrien Wijers [NL] - Can we leave things as they are? | Super Mini Feest: Tros Banana Afterparty | UMAMI #7: Warm Climate [US], Jugend [NL], UMAMI DJ-team [NL] | Vrije Academie: Generation 9/11 | West: Reynold Reynolds [US] - Six Pieces
show more
Campaign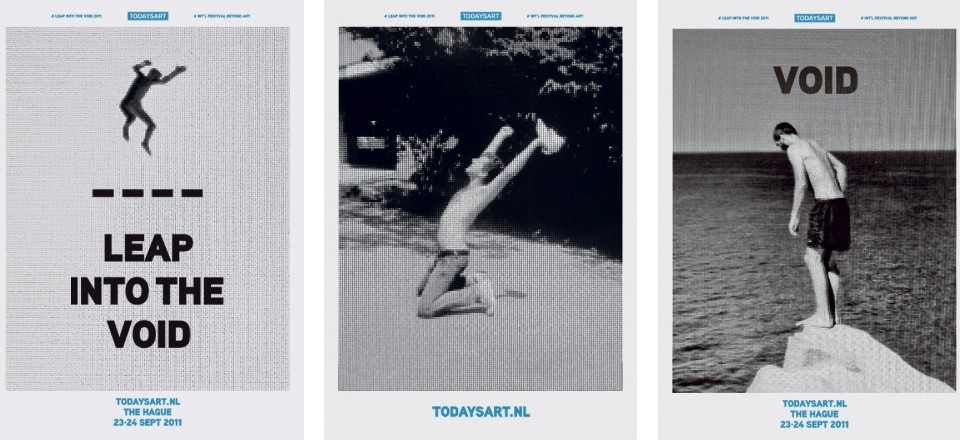 Artistic Statement
Backed up and inspired by creativity we are taking a leap into the void. The future seems unstable. we believe in the sector we operate in. Whatever happens, we wish to keep taking you along for a ride into new territories and to continue exploring tools for an unknown future. To celebrate the unfamiliar, and to feast upon each other's imagination.
This year we invited everyone to join us - together with numerous artists and partners - in creating a city lab that functions as a temporary community where the audience, architects, urbanists, activists and students convene, exchange, experiment, produce and distribute ideas and resources. The lab will be built on one of the most important public spaces of The Hague's city centre: the Spuiplein. During the three day lab, it is possible for everyone - individually or collectively - to plug-in to and interact with numerous social and creative possibilities for using and transforming our public space. The lab has little predefined facilities, form or structure; it adapts to its participants and the urban and social possibilities and needs that occur. With the city lab, we aim to create an open laboratory and autonomous zone of experiment that will be directly embedded into the heart of the city centre, interrupting daily life. The lab will allow you to question and hopefully reinvent our current urban environments and social behaviour. Want to join in? Bring your ideas and tools and become part of the city lab!
show more
The daily portions of text and images that we receive can be envisioned as building blocks. Based on the selections we make out of the events that reach us from various media, we strive to create our own vision of the world.

But who selects what information is made available to us and what knowledge are the decisions about

availability based upon? The actual selection of publicly available information is becoming a more and more powerful tool; distributing hard facts is being pushed into the background. A sugar coating of opinions keeps us on the surface and guards the actual content from visibility. We are faced with a choice; hang on, give up, embrace or deny.

Are we in doubt? Is detaching the same as becoming passive? The truth is probably more subtle. Simply sharing and pointing to shallow information is anything but active participation. The underlying system is based both on skill and coincidence. In that respect, the drop-out and the follower are not so different. However, a direct connection does form when we follow a live event, a connection that seems hard to reconstruct afterwards. Information changes the way we see the world. How we process information ultimately determines the way we deal with our surroundings.
The choice is ours; what do we select, and what do we do with that selection? we present our selection to others and perhaps we find recognition. Participating means changing and innovating. Your interests become my interests. Your idea is mine. We leap into the void. As we have always done.
show more
Over the past six years, we have been fighting to bring the borders between disciplines as close to each other as possible. This aim has resulted in an ever growing ambition to independently realise the TodaysArt Festival. We try to connect many different movements and developments in artistic, technological and social fields. By bringing them together at the festival, we aim to concentrate energy and create impact on a large scale. Each year we hope to inspire and influence our audiences: from artists to visitors, from policymakers to activists and everyone in between. Many different aspects of what we envision TodaysArt to become, seem to be coming together. We think that in the future, co-creating and designing the form and function of our societies, the areas we inhabit and the role that artistic developments play in this will become increasingly necessary. This year marks the continuation of a search for ways to improve society by inspiring people to start or support a movement or to stimulate change through creative approaches that can be organised independently and are self-sustainable.

This year, we leap into the void. We don't know what the unstable future holds for us and what the solutions might be, but we're definitely searching for it. We ignite this process by co-creating the public spaces during the festival. We offer more discourse, education and opportunities for participation than ever before, through
workshops, symposia, participation projects, tours, interventions and living laboratories. In addition, we launched many open calls for input in the fields of storytelling, augmented and mixed reality, applications for The Hague and urban interventions. These open calls received a great amount of submissions, which will be presented at the festival this year. We will continue working on promising ideas after the festival and asking you to take part in our quest.
show more
Greetings from The Hague
The recently announced radical cutbacks in funding for the Dutch cultural sector will have a devastating effect on art and culture in the Netherlands and worldwide. As one of many consequences, many dutch organisations actively involved in emerging art forms, which play an influential role in the development of the sector, industries and society on an international level, will lose some or all of their structural and project based funding. This will lead to a significant decrease in the accession of new talent, knowledge and innovation. Instead of being provided with a possibility to restructure, these unprecedented cutbacks will take effect in January 2013. This means a lot of the quality as well as the infrastructure that was built up over the past decades will be lost. As a way to justify their actions, the government is working hard to give the entire dutch cultural sector a terrible image, referring to art as a useless hobby and to cultural workers as a bunch of deadbeats. In addition to the impact on affected organisations and a decrease in the quantity and quality of their output, audiences will most likely face an increase in tax on ticket prices, making art and culture in the Netherlands less accessible in general.
show more
Main Partners
City of The Hague, European Cities of Advanced sound and related arts, European Commission – Culture Programme, International Cities of Advanced sound and related arts, SNS REAAL Fonds, VSB Fonds, Prins Bernhard Cultuurfonds, Performing Arts Fund NL, Stroom Den Haag, Fonds 1818, The Nordic Culture Fund, Délégation générale du Québec à Bruxelles, Goethe-Institut Niederlande, Australia Council for the Arts, Embassy of Finland, Embassy of Austria