The 12th edition of the TodaysArt.NL festival, September 23 + 24, 2016.
With a few solid nights of rest behind us – ample time for reflection – we're STILL basking in the warm glow of TodaysArt 2016. For two days and two nights, the Spuiplein, Theater aan het Spui, the Filmhuis Den Haag and Pulchri Studio were jam-packed with throngs of curious, adventurous and open-minded spectators eagerly and voraciously consuming our festival programme.
The energy and the atmosphere were incredible. We honestly couldn't have dared dream for more. The rousing response to Hiroaki Umeda's opening Intentional Particle and the dancing ovation to an initially seated, but incredibly infectious Pantha du Prince show. The crowd swarming Myriam Bleau after soft revolvers, and the stirring and attentive appreciation of everything from Klara Lewis to Limpe Fuchs, the debates, discussion and protests on the Spuiplein and two brimming performances of the world premiere of Entropy. The dizzying Footwork frenzy sandwiched between punishing sets by SØS Gunver Ryberg and Paula Temple, and the sweltering body music of our new favorite Charlotte Bendiks. They're all moments and memories we will cherish fondly.
This may have been a slightly more intimate festival, but TodaysArt 2016 will go into the books as the edition that shocked, surprised and blew us away. For that, we'd like to thank the artists, the crew, the volunteers and, most of all, our audience. We can't wait to welcome you back next year!
Dates
Venues
Spuiplein
Theater aan het Spui
Filmhuis Den Haag
Pulchri
The Program
The full program
PERFORMANCES
Ande Somby - Yoiking with the winged ones | bRUNA & Wooky + Alba G. Corral - Archives | Dopplereffekt + Antivj + Scientists + Artist-Coders - Entropy |Floris Kaayk + Ine Poppe + Machinefabriek - The Modular Body | Hiroaki Umeda - Intensional Particle | Julien Bayle - sig.term | Klara Lewis | Limpe Fuchs | Masayoshi Fujita | Myriam Bleau - autopsy.glass + Soft Revolvers | Nora Turato | Pantha du Prince - The Triad | Paul Jebanasam + Tarik Barri - Continuum | Piotr Kurek | TCF

CLUB
BAKK presents: The Voice | Charlotte Bendisk | DJ Earl w/ Sirr Tmo + Dre | Elias Mazian | Nathan Fake | Paula Temple | SØS Gunver Ryberg | We will fail | DJ Skurge | El Rik | Lukasz Zwyna | Pangani

WORKS
Francisco López + iii - audio-DH |Ali Eslami + Ash Koosha - SNOW VR | Christian Falsneas - Justified Beliefs | Floris Kaayk + Ine Poppe - The Modular Body | James Bridle - Drone Shadow | Matthias Oostrik - plplpl.pl::scrutiny | Mike Rijnierse + Rob Bothof - CUBE | NONOTAK - Verticals | P. Calderón Salazar, R. Kiesewetter, La Jetée & Parasite 2.0 - Politics of queuing | La Jetée (Paolo Patelli & Giuditta Vendrame) - Friction Atlas | Pedro Reyes - Disarm | Mark Bain - Sonic Suitcase, Burden of Proof | ZUS [Zones Urbaines Sensibles] + Collective Works + Refunc - RUIMTE

FILM
Liz Magic Laser - The Thought Leader | Margaret Haines - The Stars Down to Earth | PWR - Foreign Drive | Randa Maroufi | Shadi Habib Allah - dag'aa | Superflux - Drone Aviary

SYMPOSIUM
VPRO Medialab Meet Up: Rob van Hattem + Nicolaas Boritch + Elie Zananiri + Floris Kaayk + Ali Eslami
New Emergences #4: Mariette Groot + Ruth Timmermans + Anne La Berge + Florian Cramer
Art, Astrospace and MoonMars: Bernard Foing + Dida MArkovic + Elie Zananiri + Angeliki Kapglou + A. Kolodziejczyk
Public under Construction: Peter Zuiderwijk + Michiel van Iersel + Elma van Boxel + Kristian Koreman + Koert van Mensvoort + Paolo Patelli + Giuditta Vendrame + Ruimte voor de Stad + Christiaan Fruneaux
Novel Tools for Sonic Manifestations: Jose Luis de Vincente + Francisco López + Andre Vogrig + Darien Brito + Marije Baalman + Myriam Bleau + Paul Jebanasam + Tarik Barri
Emerging Artists hosted by SHAPE platform: Jonathan Reus + Gaute Barlindhaug + Charlotte Bendiks + Masayoshi Fujita + Matteo Marangoni + Aleksandra Grünholz + Julien Bayle
Dencentralize!: Jonathan Looman + Daniel Erlacher + Joachim Lohkamp + Lars Holdus + Maurice Mikkers + Beer van Geer + Roeland Landegent
City Sondols (workshop): Matteo Marangoni

show more
Campaign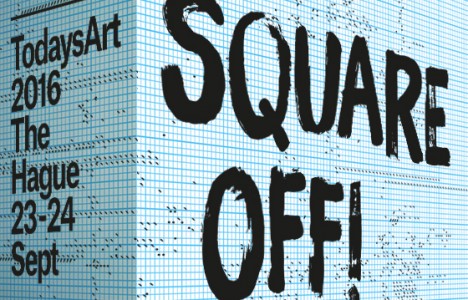 Artistic Statement
TodaysArt hasn't always been a nomadic endeavour. Forever in The Hague, the first eight editions of our festival for contemporary experiments in music, art and digital culture were set firmly in the heart of the city. The Spuiplein was our home and its surrounding institutions – from the City Hall Atrium to the Filmhuis and Theater aan het Spui to the Dr. Anton Philipszaal – played host to countless unforgettable performances.

But for the past three years, we've been without a permanent location. With each new edition, we've taken up residence in a new public space and a new context. We've begun to call ourselves roving, not because we're wandering aimlessly, but because we're not exactly sure where we'll end up next. Driven by the desire to engage with public debate and contemporary societal issues, we've sought out locations that have a controversial standing; public spaces with a checkered past and a hotly debated future. In 2013, it was the abandoned Ministerie van Binnenlandse Zaken. The year after, we moved to the Zuiderstrandtheater. And last year, we took the Pier in Scheveningen.

This year the onus has fallen on our old home. The Spuiplein has become embroiled in a complex discussion about the use of public space and that which determines it. Our birthplace is already just a shell of its former self. Its social-political context has changed, the (cultural) debate surrounding it has shifted and the political visions for it have (once again) been revised. The Dr. Anton Philipszaal is gone. The old Ministry of Justice tower is a distant memory. And all that remains of the Lucent Danstheater, Rem Koolhaas's infamous The Hague contribution, is a single, rear facade. The Spuiplein is, for the most part, a construction site; destined to become the new 'educational and cultural heart' of The Hague, but for now caught in a whirlpool of open ends.
The Future of Public Space

The essence of good public space lies in its ability to connect. Its spatial qualities can generate connections between an individual and their environment or produce forces by connecting different kinds of people, ideas and experiences. Good public space is space where we can freely run into each other, strike up a conversation or come into conflict. It's a place where the abstract principles of the public domain – debate, discussion, decision-making, regulation, trade and interaction – begin to attain a physical form. In this way, public space facilitates the public domain.

The foundations of our democratic society are, however, trembling. There is paralysis, a tendency towards indecision and the erosion of shared goals. On the one hand we are incapable identifying with a single group, and on the other overwhelmed by the complexity of modern decision-making processes. As we head towards this post-democratic reality in which fully functional democratic systems become progressively limited in their ability to act or put something into operation, it is plain to see that the forces that define the public domain are adrift. Our sense of 'public' is under construction. It used to entail common goals and shared values (the public), but as they become more and more entangled with the market and individualism (the private), we cannot separate the one from the other; public, private, commercial, cultural, democratic or technocratic, it now all goes hand in hand. As a result, opinions have become abundant and interchangeable, and need to be hyped, branded or sold to be relevant. The result is a polarized landscape and a confused form of sensitivity. Confused by a flood of ideas, plans, opinions and directions, all that remains is an empty feeling. The notion of 'public' is trapped by the forces it produces. Its central principles of openness, liberty and debate are so all-consuming that every shared opinion increases the numbness. The interaction between people is changing and so too the character of the space in which they do so.

The public domain as an abstraction isn't the same thing as the physical experience of a space that is considered public. A communal garden, a park or a public square can still have the unique quality of spontaneously provoking interaction or exchange. But change is in the air and at some point the developments in the public domain will, one way or another, start to affect the quality of the public space we currently still take for granted. The next technological inventions, stricter safety measures, populism and political complacency are in conflict with each other and cause inherent tensions.

These tensions translate to spatial questions. What is the future of public space? What could an updated meaning of public space look like? What is the democratic value of public space? Will algorithms determine how we move forward or will we appropriate a new kind of power made possible by new technological tools? How inclusive or exclusive will the future public space (need) to be? What is a common collective society and what does it mean in terms of the systems with which we engage?

TodaysArt 2016: Public under Construction

This brings us to today and to TodaysArt 2016. We returned to our humble origins, the Spuiplein, in exciting and challenging times; on the eve of the construction works that are set to transform the square into the 'cultural temple' of The Hague. We returned armed not just with an adventurous program, but with all of those questions. Questions that warrant answers. And answers that demand open and transparent public debate. We want to stimulate and generate new insights into democracy, the public domain and public space that will foster that debate.

With this in mind, we developed a plan for the Spuiplein together with ZUS [Zones Urbaines Sensibles], Collective Works and Refunc that sets this whole machine in motion. A plan that operates within the temporal, legal and spatial bounds of formal urban processes, but triggers and facilitates the discussion we so desperately need. The response is RUIMTE op het Spuiplein, an overarching strategy to reclaim the square and activate it as a social and public residence. A project that intends to actualize a public space owned by the people and for the people for the coming years. TodaysArt 2016 was the first part of this larger project, the first step in claiming the Spuiplein as a stage for new ideas and new debates.

A Testing Ground

Turning back the clock to the ancient Greek city-state, the RUIMTE team draw inspiration from the birthplace of our Western democracy and the ancestral home of public space, the agora. Nestled in the heart of each city-state, the agora was the center of athletic, artistic, spiritual, mercantile and political life. It was a gathering place, an assembly, where citizens would report for military duty and merchants kept their stalls, and where the people shared ideas. It was an open place where individuals could interact, exchange and connect.

With RUIMTE, we've taken the notion of the agora and dropped it in the 21st century. Envisioned as a 'square within the square', the team transforms the Spuiplein into life-size maquette, the centerpiece of which are four life-size, amphitheatre-like agora prototypes designed by ZUS. Each prototype is a testing ground with its own distinct design and corresponding name – platform, arcade, forum and stepwell. Placed on the Spuiplein and in the festival heart, these agoras served as the TodaysArt 2016 assembly. They played host to talks, debates and performances. And, in keeping with the ancient tradition, also became bars and miniature outdoor clubs, or places to relax and catch your breath.

The debate surrounding public space extended to the remainder of the program on and around the Spuiplein. We placed installations and interventions that further challenged your relationship with the public and public space. Works by James Bridle, Nora Turato, Christian Falsnaes and a few (collaborating) collectives of designers/artists featuring LaJetée, Parasite 2.0 and more. In the Filmhuis across the street, we screened a looping film program of short films by filmmakers and artists that collectively showcase a myriad of ways in which individuals interact with their surrounding public space. And in the Theater aan het Spui next door, you could bear witness to several performances and club nights. Events that didn't explicitly tap into the larger debate, but served as an eye-opening respite and captivating contrast.

The manifestation of RUIMTE at TodaysArt 2016 was just a start. On Sunday, when the festival came to a close, the Spuiplein, the agoras and the ideas shared within them were all that remained. But what will become of the square from here on out? The prototypes could result in a larger, more permanent structure. One that works for all of the surrounding partners, inhabitants and visitors. A place where socratic discussions and debates can spontaneously occur between government officials, loitering 'hangjeugd', security guards and anyone passing by. It could sometimes transform into a marketplace, and other times host a political rally, theatre, dance or music. It could be a place where people come together to interact, exchange and connect and where the overlap between combining functions come about organically or not. In this period of transition, the Spuiplein can become anything. But in order to realize this, we need to keep posting questions and to keep seeking answers. We must ensure that the debate about our public space and our public domain does not stop, and that we critically reflect on our Public under Construction.
show more
Main Partners
Each year, TodaysArt is supported by many different partners.
We are Europe | ICAS | SHAPE | Gemeente Den Haag | Creative Europe | Creative Industries | Fonds 21 | Performing Arts Fund | Impact City |  Stroom Den Haag| Prins Bernard Cultuur Fonds |Délégation générale du Québec à Bruxelles| Mexicaanse Ambassade (NL) | Science & Technology Facilities Council | Arcadi | Fédération Wallonie-Bruxelles | Sónar | Insomnia | Collective Works | ReFunc | ZUS | TAAK | Buurmen | Niels Bohr Institute | WTHX | Antivj | University of Portsmouth | Turner Contemporary | Institute of Cosmology and Gravitation | Lisson Gallery | iii | CTM Festival | Just Peace | Failed Architecture | le lieu unique | VPRO Medialab Meet Up | ESA-ESTEC | BAKK | STEIM | CoderDojo | ILEWG | COCOLAB | The Creators Project | Resident Advisor | Gonzo (Circus) | 22tracks | Visions.tv | CJP | Resonance104.4.fm | Subbacultcha |  DJBroadcast | Theater aan het Spui | Filmhuis Den Haag | Pulchri Studio | Korzo | BeamSystems | TRUE | think! | Stager | Autohaag Zeeuw KIA | MORE Stage Services | Hofstad Security |  VSI | Mercure Hotels | de Gekke Geit | Ziggo | VIVE | Bar & restaurant Pavlov | 1WINE | Jupiler
show more