15 years of art, music and technology: Matthew Schreiber, Raster, Memo Akten, Philip Beesley and more at TodaysArt 2019
Exciting news! As we have only one more month to go before TodaysArt 2019 takes off, we have now finalized the lineup for our art exhibition, which will arise in the monumental, raw and enormous Electricity Factory in The Hague. Together with our participating artists, we will transform the building into a spaceship full of conscious machines, learning computers, Artificial Intelligence, lasers, projectors and LED's — providing a visually immersive and global snapshot that reflects the vitality and diversity of contemporary art and audiovisual creation.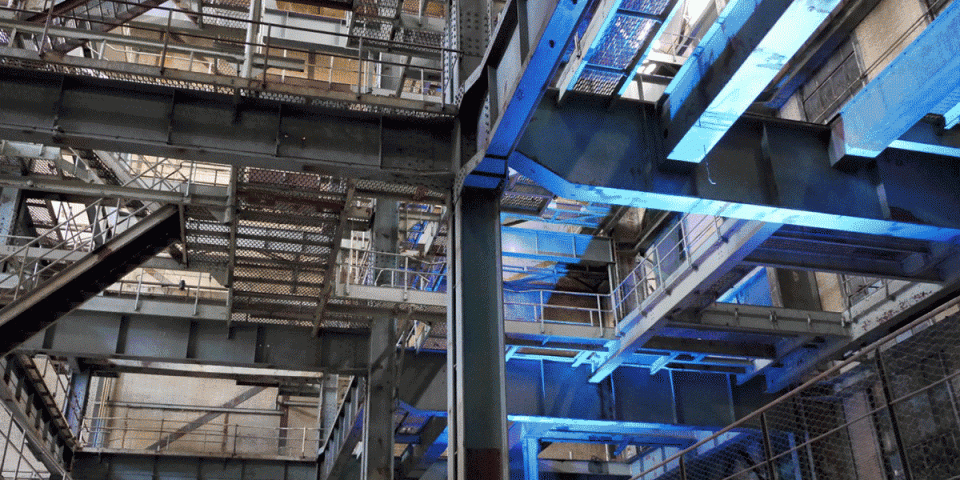 Newly added participating artists:
Matthew Schreiber
Memo Akten
Philip Beesley
Raster.
Daria Shkeleva
Sujata Majumdar
Bodikhuu
Steven van Lummel
Carolien Teunisse
This year's exhibition, created in close collaboration with the residency program Crossing Parallels, is centred around the theme of 'Consciousness.' It will be a piece of art in itself, as most of the works are site-specific, developed especially for this raw, industrial venue, or are the result of our residency with the Delft University of Technology.
TodaysArt is proud to present one of these site-specific works at the hand of Matthew Schreiber. The New York-based artist built his first laser at seven years old, and his first installation at fifteen. With this kind of ambition, it makes total sense that he'd go on build an incredible catalogue of his own. Through light and dark, geometry and space, his work comments frankly on art's spectacle and novelty. His use of contemporary technology engages a conversation with ideas of the esoteric, superstition and the occult. His practice pits the active image of the past against today's screen-based image culture of slick and banal immediacy.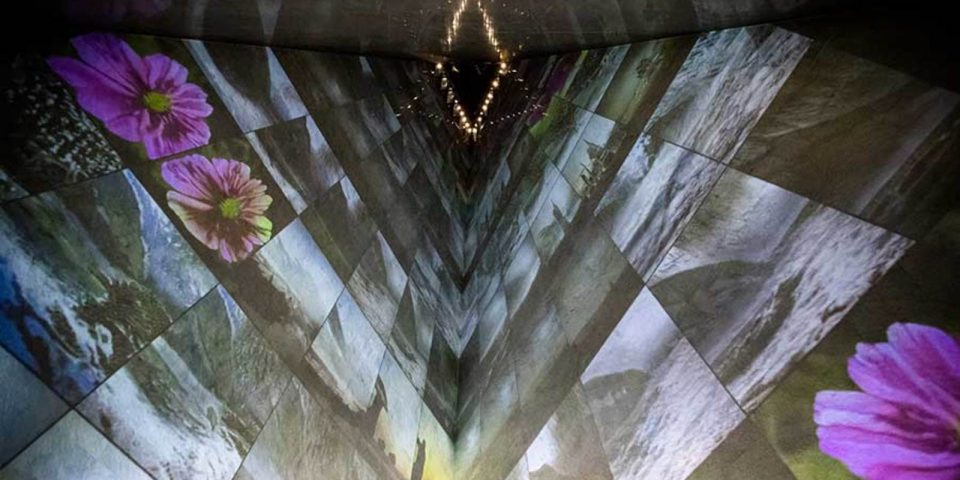 Picture: Memo Akten- Deep Meditations at Sónar + D & ME by MELIÁ
In line with this year's festival theme "CONSCIOUSNESS", Memo Akten will immerse the audience with 'Deep Meditations' while exploring the intersections of technology and spirituality. The work consists of five vertical screens representing the collective consciousness and giving a visual representation to those subjective concepts that make us inherently human.
The Berlin-based multimedia organisation Raster will present the monumental site-specific installation **Schwellen,** that will take over the factory every hour. A grid of 16 columns of more than 20 meters high, white neon tubes and a three-dimensional sound system will amplify the spatial aspects of the space. Starting from the thresholds of human perception, the work finds the relation between space, time and sound.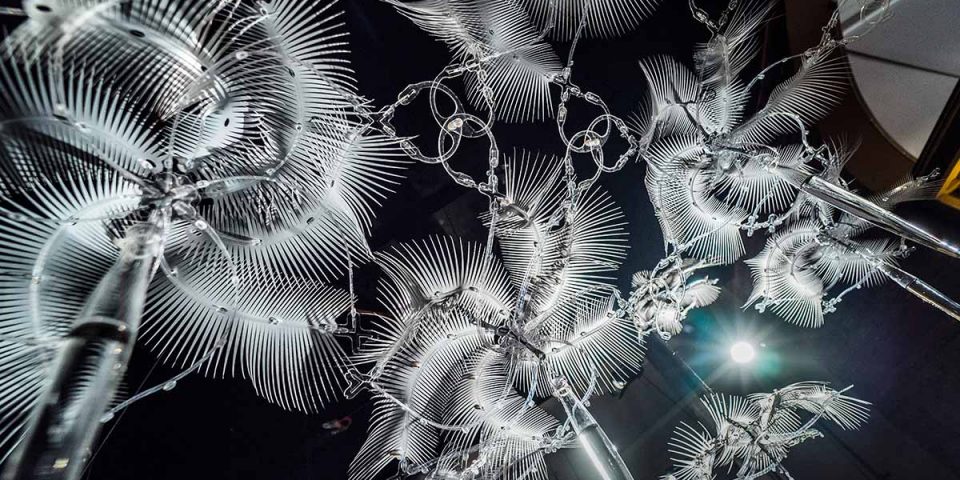 Picture: Philip Beesley – Anthozoan Veil, by Fred Leeflang
We are also very excited for the long-awaited result of Philip Beesley's residency with Crossing Parallels. The multidisciplinary architect and designer has been developing an immense interactive installation in close collaboration with students and professors of the Robotic Building and Interactive Environments programmes at the Delft University of Technology. 'Anthozoan Veil' is a living sculpture that has been growing like a coral reef, a scaffolding populated with colonies that communicate with one another and the festival visitor through movement and light.
Also a Crossing Parallels artist-in-residence, photographer and physicist Sujata Majumdar explored the pictorial potential of concrete in her collaboration with Stephen Picken, professor of Polymer Materials. In the project 'A Cure for Concrete', they experimented with protective and structured nanocoatings on concrete. Building on her past work of photographing aged concrete, they recreated surface effects and steered the process on the concrete by design.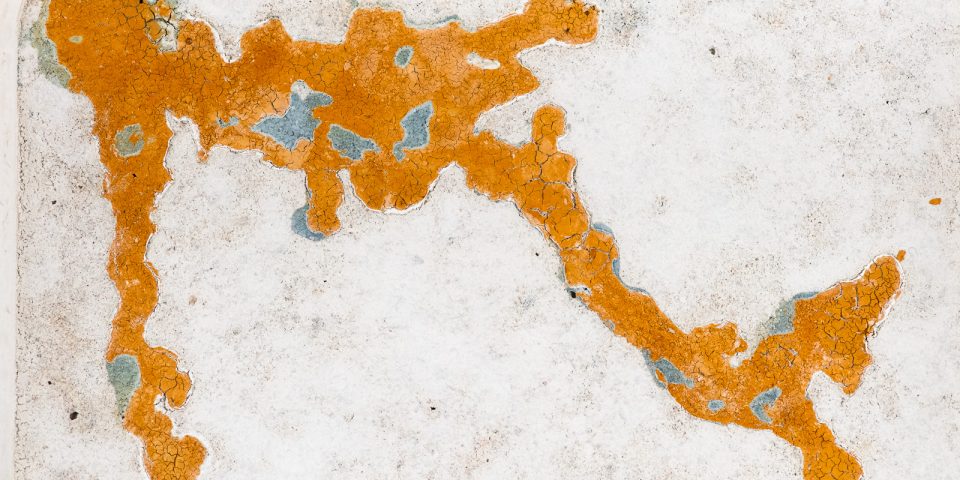 Picture: Sujata Mujamdar – A Cure for Concrete
Bodikhuu is a young artist, musician and environmental activist with a rather big reputation in his home country. Deeply concerned with the current situation there, he uses his work to address issues such as waste, pollution and climate change, serving as an example for many young Mongolian artists. For TodaysArt, Bodikhuu will do two sound performances from his sound art installation 'SPIRAL SUFFOCATION'. It is a mix of live sampling of vinyl, recordings of traditional long throat singers and recordings of his suffocating plastic mask that symbolises the toxic air of Ulaanbaatar.
Hailing from St. Petersburg, media artist Daria Shkeleva will present her installation 'E.D.E.N.', an installation based on a neural network that was trained with images of real trees and forests. The work is shaped like a corridor, inviting the visitor to enter and witness the full circle of life. At the beginning of the hall, images of nature are still very lush and blooming. Crossing the final line, we pass the inevitable boundary, a certain point of no return, beyond which nature has ended its existence.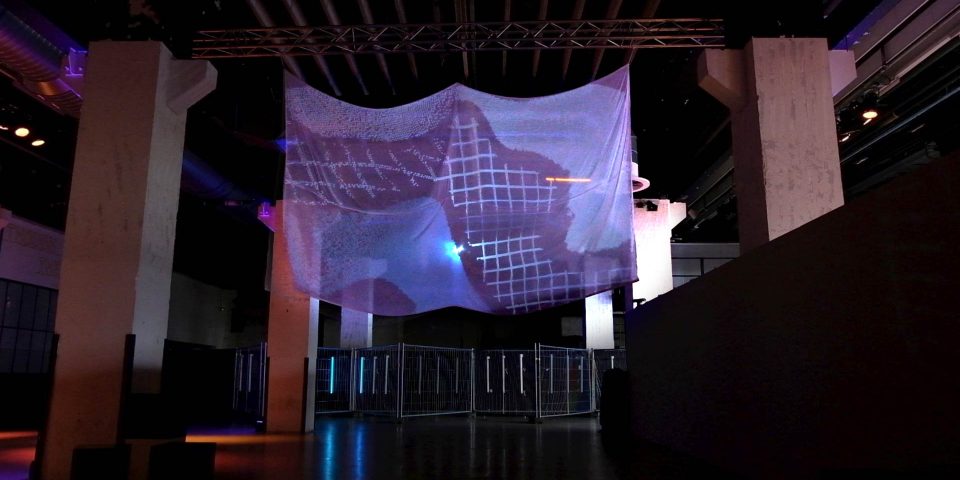 Picture: Carolien Teunisse – Field_in_Flux
Apart from the exhibition in the factory, art will also arise at various other festival locations as well. Utrecht-based visual media artist, researcher and curator Carolien Teunisse will present her new installation '**Field_in_Flux**' in the foyer of Theater aan het Spui. The work reveals invisible fields in space by means of computer vision, creating fluid morphing shapes in places where a physical cloth intersects with virtual color fields. Natural physics and algorithms join forces to create unpredictable and hypnotizing movements where chance is the only constant.
Every year, TodaysArt invites a local artist from The Hague to present his or her work in the studio of the theater as well. This year, Steven van Lummel receives a carte blanche, meaning he can use the space as he wishes. Steven is a powerful cultural actor and entrepreneur in The Hague and beyond, being the owner of the venue PiP. He is also an artist, writer and designer with an incredible imagination. He developed a new work, which he will showcase at the festival.
We are also adding two more artists to our enriching Artist Talks: Apart from Refik Anadol, Ralf Baecker, Evelina Domnitch and Dmitry Gelfand and Pablo Valbuena, Philip Beesley and Memo Akten will also come to talk about the work they are presenting at our art exhibition, and how it connects to our festival theme 'CONSCIOUSNESS'.
TodaysArt is revving up for its 2019 edition on September 19-22. Day tickets for the festival exhibition and tickets for the festival opening are for sale as of today and final additions to the festival's music and context program are underway. Stay tuned, check our complete program on our website, and get your ticket now!