Three days of performances, installations, talks, workshops, meetings and inspiration in Kuwait.
Initially envisioned in 2007 by Zahed Sultan, REUSE is a modular platform for progressive culture and society in the Arab world. For its Kuwait edition in 2016 REUSE will emphasize the informal exchange of ideas between participants and attendees, rather than following a conventionally structured program of events. REUSE invited TodaysArt to co-curate the 2016 edition.
This collaboration marks the outreach efforts that TodaysArt is developing around the world in order to connect to new communities and to build a multilateral network in new, upcoming and often undiscovered territories.
Date(s)
REUSE (day): April 1st + 2nd
REUSE (night): April 1st + 2nd
Symposium: April 3rd
Venue(s)
Dar Al Athar al Islamiyya (DAI) – Yarmouk
Shaheed Park
The Program
The program consists of performances, installations, collaborations, workshops and talks by international artists as well as artists from Kuwait and the Arab world.
Aaron Kim | Altersal | A.S.N. Rao | Cheb Moha | Daan Brinkmann | David Munir Nabti | Empty 1/4| Fari B + Chris Weaver | Farmtable |HABABA | Jawa | Karim Sultan | Magic Island | Maotik | Maurice Mikkers | Nicholson | NONOTAK | Norimichi Hirakawa | Refunc | SALT | Soul xxx kicks | The Era | Tim Terpstra | Wolff
show more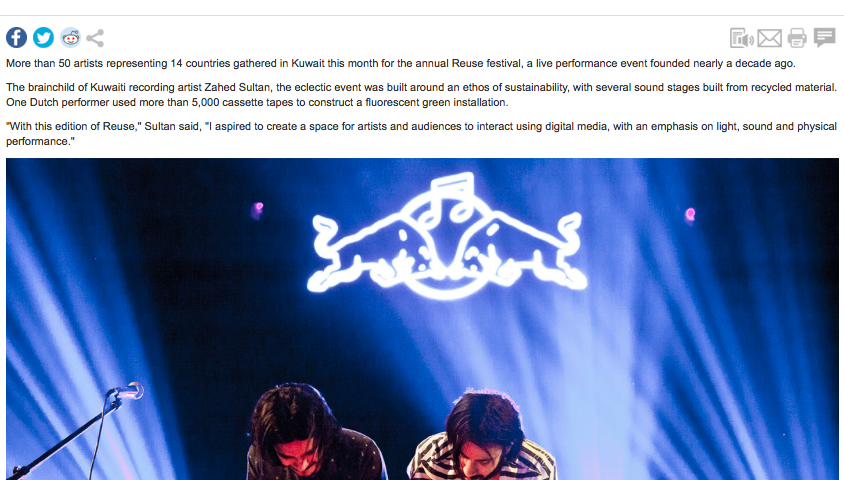 More info