Quantum Music is a project aiming to explore the connection between music and quantum physics. The project presents quantum physics and the quantum world to a wider audience and contributes to the creation of a new musical and scientific genre - Quantum Music.
Quantum music is a project rooted in the area of quantum physics called quantum acoustics. These two, at first glance completely separate worlds — the world of quantum particles, and the world of sound that fully belongs to our reality — come into contact with one another in a series of quantum-acoustics experiments conducted in the most advanced laboratories. During these experiments, quantum particles exhibit acoustic phenomena that can be converted into a sound that is theoretically possible to hear. The Quantum Music project enables the translation of this theoretical possibility into reality, establishing direct connections between listeners and the quantum-acoustics phenomena.
The main objective of this project is to bring the imaginary principles of quantum physics closer to a wide audience through the most imaginative of all arts — music. How do the laws of quantum physics and aesthetics of music interact? Following the universal principle of duality, we aim to answer this question by using two of the acoustically most perfect man-made concert instruments — pianos. Two pianos will interact between themselves, with the audience and, finally, with quantum systems. To make something like this possible, it was necessary to construct original mechanisms to connect classical pianos with the world of computers, lasers and quantum physics. The pianos equipped with such dedicated hardware and software tools become entirely new instruments — hybrid pianos, capable of interacting with the quantum world.
A group of top scientists, engineers and artists from several countries participate in this project; it will premiere in September 2017.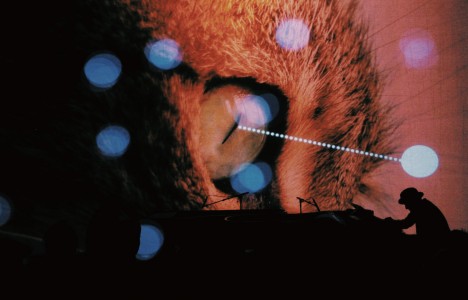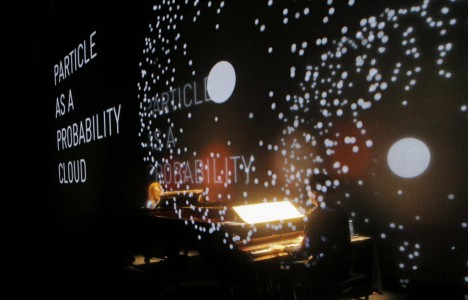 Promo video:

The Quantum Music Project – dr Vlatko Vedral, lecture

Official trailer:

Project Idea
Vlatko Vedral, BSc MA PhD, Professor of Physics, University of Oxford & Governing Body Fellow at Wolfson College (Oxford)
Prof. Dragan Novković, School of Electrical Engineering and Computer Science Belgrade, Audio & Video Department
Doc. Sonja Lončar, Assistant Professor, Faculty of Music, University of Arts in Belgrade
Doc. Andrija Pavlović, Assistant Professor, NOVA Academy, European University in Belgrade (Pianists, LP Duo and CEO's of New Arts Center Belgrade)
Project Leader
Institute of Musicology of Serbian Academy of Sciences and Arts
http://www.music.sanu.ac.rs/
Project Partners
New Arts Center Belgrade, Serbia
www.lpduo.com
The Danish National School of Performing Arts, Copenhagen, Denmark,
http://scenekunstskolen.dk/
Kino Šiška Centre for Urban Culture, Ljubljana, Slovenia
http://www.kinosiska.si/en
Centre for promotion of science, Belgrade, Serbia
http://www.cpn.rs/?lang=en
Associate Partners
University of Oxford, Department of Physics, United Kingdom
http://www2.physics.ox.ac.uk/
http://quantumoxford.com/
TodaysArt, The Hague, Netherlands
http://todaysart.org