An immersive audiovisual performance by Dopplereffekt, Antivj, scientists and coders
TodaysArt is extremely proud to confirm the world premiere of Entropy, an extraordinary audiovisual performance by sonic pioneer Dopplereffekt and digital arts label Antivj in collaboration with a community of scientists and artist-coders. The project will be unveiled at TodaysArt Festival 2016, which takes place in The Hague from the 22nd to the 25th of September.
Part sonic exploration and part visual odyssey, Entropy takes you on a cosmic journey through space and time. Unfolding as an immersive audiovisual performance, Entropy weaves talks by astronomers Dr. Dida Markovic and Dr. Zaz Magic, visualizations of real astronomical data by Yannick Jacquet of Antivj and Elie Zananiri, and a live musical score by Dopplereffekt into a gripping narrative. It pieces together the latest discoveries in cosmology and stellar astrophysics to tell the epic life story of the universe and its stars.
Conceived by Dopplereffekt founder and Drexciya member Gerald Donald, together with Dr. Dida Markovic of the Institute of Cosmology and Gravitation (ICG) in Portsmouth and Dr. Zaz Magic of the Niels Bohr Institute in Copenhagen, Entropy seeks to reinvent scientific storytelling on the one hand, and develop new tools to imagine, display and stage scientific data and narratives on the other. With that second goal in mind, the team has taken the unorthodox step of releasing their software and applications as open-source, encouraging art and science communities to use, modify and contribute to the Entropy project themselves – to contribute, join at http://github.com/Entropy.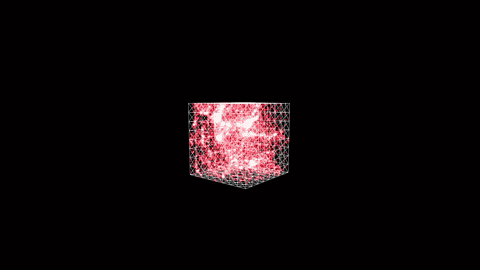 Initially piloted at Abandon Normal Devices Festival in 2011, the project rapidly evolved with the addition of digital arts label Antivj in 2013. In collaboration with a community of artists and coders led by Elie Zananiri, the strengthened team set about creating a unique set of visualizations and computer-generated graphics to complement the scientific talks and musical composition. The resulting performance is a mesmerizing trans-disciplinary epic that transforms the traditional scientific narrative into a transcendent experience.
Signing on to the project as co-producer in 2014, TodaysArt hosted the first-ever public announcement of the project at Belgrade's Resonate Festival in April of this year. We are thrilled that Entropy will now be premiered at TodaysArt Festival 2016 in September. The performance will be presented in collaboration with Sónar Festival and Insomnia Festival as part of the We are Europe program, co-funded by Creative Europe. Following its initial premiere, Entropy will be showcased at select art and science events around the world.

The project is currently supported by the Science and Technology Facilities Council, We are Europe and Arcadi Île-de-France.
To stay up-to-date with the latest Entropy developments, sign up for the Entropy mailing list at entropyspace.net or follow Entropy on Twitter or Facebook.
Credits:
Image 1 / Header: NASA – http://hubblesite.org – Edited by: Simon Geilfuss
Image 2 / GIF: Early prototype developed by Elie Zananiri