Thanks To Our Community For The Support. Remain combatant!
The City of The Hague, our main funder, decided not to recognize the platform we developed in the last 18 years. They don't seem to value the strength of our community, partners, collaborators and co-funders; neither understanding our efforts to connect with the rest of the world in order to sustain our platform for talent, creativity and innovation for almost two decades.
On the other side, the Dutch Ministry of Culture gave a very positive evaluation, but there was not enough budget for institutes in The Hague, as the current policy is to support more initiatives outside of the big cities. We have a lot of energy and are ready for any challenge, but the current pandemic hangs a second dark cloud over our heads. If we lose our funding now, we will not be able to survive and we will need to submerge.
In light of these events, we asked our community to intervene, by telling their stories and showing their support to our cause. The response overwhelmed us: the level of interaction from our community, the quality of their arguments, the warmth of their messages of support. It felt, for the first time in a long period, as if an actual festival has happened. Our TodaysArt 2020 Online edition: a big virtual gathering whose purpose is to re-discuss the paramount importance of funding Art in these dark times.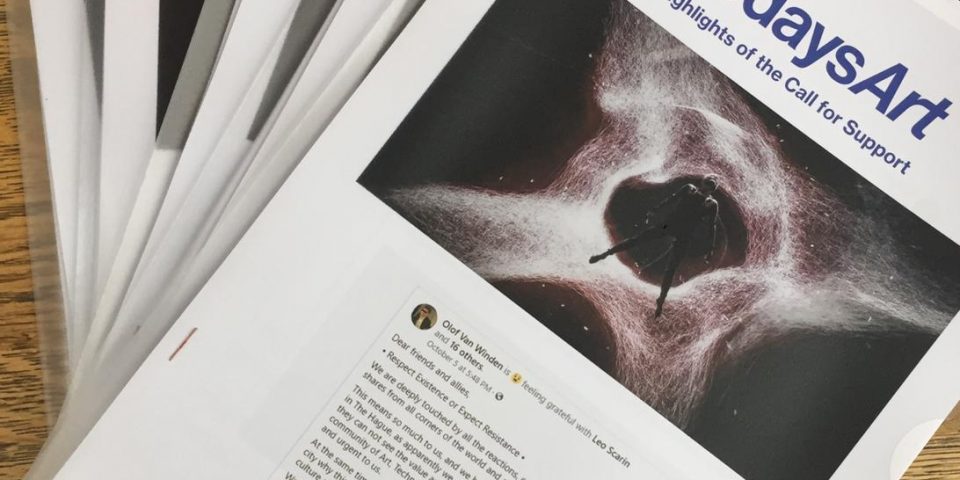 We shared a selection of the many comments/posts/stories with The Hague's Art Council, under the form of a printed visual document. This enormous wave of support meant a lot to us and we hope it will influence their decisions, too.
We want to thank you on behalf of all the co-workers, freelancers, artists, makers, partners, funders, collaborators, friends, volunteers and of course the public; we will keep you posted about the final conclusions of the City Council, until then we will keep fighting!